Kim Kardashian Went To Another Kanye West Show In Which He Brought Up Their Divorce And The Fact She Still Allegedly Loves Him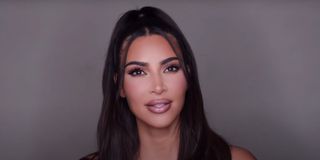 When it comes to Kim Kardashian and rapper Kanye West, in the words of Katy Perry, I guess it's never really over. Kardashian originally filed for divorce from West earlier this year, but the story of Kimye hasn't quite reached its final chapter. To celebrate the upcoming release of Donda, his latest studio album named after his late mother, Kanye West hosted yet another album listening party - and Kim Kardashian was in attendance.
Kanye West held a first album listening party in an Atlanta stadium last month. The event counted Kim Kardashian and their four children (North, Saint, Chicago, and Psalm) as guests. Now, Buzzfeed News has reported that Kim Kardashian made an appearance at a second Kanye West performance, spurring the rumor mill to speculate about the nature of their relationship. It didn't help that her all-black Balenciaga ensemble basically matched Kanye's outfit, or that his lyrics seemed to directly address their divorce. His song "Love Unconditionally" evidently sounded like a plea for Kim Kardashian to forgive him, especially with the line "I'm losing all my family, darling come back to me."
Kanye West also reportedly implied that he believed Kim Kardashian still loves him, despite their rocky split, as he said as much in one of his new songs, which included the lyric "time and space is a luxury, but you came here to show that you're still in love with me." It's true that Kim Kardasian's appearance at her ex's event could signify leftover feelings, but it's also possible that she just wants to support the father of her children.
Kris Jenner has reportedly told Kim Kardashian to remain on good terms with him for the sake of the kids, so that theory holds some weight. The pair has even been spotted taking their family on museum outings. The ex-couple's new commitment to co-parenting shows a marked improvement from earlier this year, when they weren't speaking to one another at all.
All of this is coming on the heels of the series finale of Keeping Up With the Kardashians. The iconic reality show that catapulted the Kardashian clan to stardom ended this June after 20 seasons of drama and endlessly GIF-able moments ("Kim, there's people that are dying"). A highlight of the last season included Kim Kardashian spilling the tea on the events that prompted her to finally get a divorce after years of reported unhappiness, such as a string of Kanye West's more questionable tweets.
However, Kim Kardashian stayed pretty classy about the whole affair: the pair's split was not a major storyline of the final season of KUWTK. If we want to know more, we'll just have to wait for Donda. You can relive all of your favorite Keeping Up With The Kardashians moments on Hulu.
Actor, singer, and occasional dancer. Likes: fashion, books, old buildings. Dislikes: cilantro, the NJ Turnpike, sneaker wedges.
Your Daily Blend of Entertainment News
Thank you for signing up to CinemaBlend. You will receive a verification email shortly.
There was a problem. Please refresh the page and try again.