Titans Season 3: 10 Biggest Reveals And DC Easter Eggs In First Three Episodes On HBO Max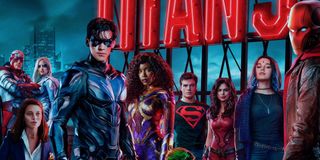 (Image credit: hbo press)
Spoiler warning for anyone who hasn't yet watched the three-episode premiere for Titans Season 3.
When Titans wrapped up its season season in November 2019, DC Universe's streaming service still existed, and COVID-19 didn't yet. Flash-forward to now, where Season 3 has finally arrived on HBO Max after a pandemic that not even Joshua Orpin's Superboy could eradicate. The completely batty premiere, "Barbara Gordon," alone would have been enough to tide many viewers over, considering everything that went down, but the streaming service went into ultra-brood-mode and delivered the first three installments of this 13-episode season.
Below, we're running down not only all of Titans' biggest and most shocking reveals within the Gotham-tethered narrative, but also the most glorious DC Comics easter eggs that were scattered in the episodes "Red Hood" and "Hank & Dove" as well as the premiere. Let's kick things off with the deadly moment we all knew would happen, even if it somehow still didn't dull the shock value.
The Joker Totally Murdered Robin
As it was teased in the first footage from Titans' third season, Curran Walters' Jason Todd went against advice and common sense to try and take The Joker down on his own, and he was pummeled to death by a crowbar for his efforts. Jason's death via Joker violence comes straight out of the comics, with Savannah Welch's Barbara Gordon even name-dropping the storyline title "A Death in the Family" in Episode 2. That said, Titans didn't utilize the controversial voting process that sealed the young Robin's fate in the source material, and it also didn't give the live-action Jason a last-second hero moment by having him jump on a bomb, which makes it all the more depressing how hard the dude ate it. At least until Red Hood arrived and made everything more awesome.
Gizmo's Live-Action Debut
Like many DC villains, the Teen Titans' foe Gizmo has a fairly iconic look that can be summed up in a few characteristics: bald, round goggles, not so big. For his live-action debut, the scheme-crafting Gizmo was portrayed by Dov Tiefenbach, and he was handily defeated by Brenton Thwaites' Nightwing. But it's that intensely bright green goop he had that will probably have a bigger impact on the rest of the season, at least judging by the other bright green imagery that pops up.
The Real Batcave And All Of Batman's Artifacts
After most of its prior screen-time in Dick and Jason's hallucinations, Bruce Wayne's Batcave was on full display in Episode 1 as Dick visited the shell-shocked Bruce. The cave's signature T-Rex and giant Penny Plunder coin were on display as holograms, with other recognizable elements also showcased, such as the giant Joker card, the Mad Hatter's top hat, Bane's mask, Harley Quinn's mallet, and more. While over on the wall hung The Penguin's umbrella and one of The Joker's henchman masks. Not to mention a big display of powerful weaponry. I'm not saying this is my dream bedroom, but I'm not saying it isn't.
Alfred And James Gordon Are Apparently Both Dead
Even though the Wayne family's trusty butler and confidante Alfred Pennyworth appeared via phone call in Titans' first season, the superhero series seemingly confirmed he died sometime between then and now, with Iain Glen's Bruce revealing he'd buried Jason "in the family plot, next to Alfred." No telling just how he died, however.
And then later in the episode, as Dick and Barbara were confronting Bruce about his history with Robins, she defensively dropped the bombshell that her father James Gordon died of a heart attack after he'd been frozen in a big block of ice "by a man wearing a fucking refrigerator suit." You better believe Bruce dropped Mr. Freeze's name into the convo, and got chastised for doing so. We all know who she was talking about, smart guy.
Holy Spoiler, The Signal And Two More Robins, Batman!
Upon returning to the Batcave to analyze evidence found in Jason's home, Dick stumbled upon a group of images of the potential new recruits that Bruce was scouting as Jason's replacement, and it was a bevy of comic book nods. First up was Carrie Kelley, who was originally introduced in Frank Miller's Batman: The Dark Knight Returns as the rebellious daughter of ex-hippies who became the new Robin, post-Jason. Then there was Daxton Chill, who debuted in the comics in 2015 as part of the We Are Robin collective, taking the mantle in a tentative super-chill capacity.
The next pic was of Stephanie Brown, better known to comic fans first as Spoiler, then as Robin, and then as Batgirl; considering Titans brought Tim Drake into the fold with Season 3, it would be awesome to see his Robin team up with Spoiler in live-action this season. Or whenever. Finally, viewers were shown a pic of Duke Thomas, who was also part of the We Are Robin movement before branching out with a new look and persona: The Signal. Considering Bruce is currently AWOL, it's hard to know whether any of those characters will actually join the Titans-verse down the line, or if that was just something to give fans a jolt. But I'll take it either way.
Batman Killed The Joker, For Real This Time
While Titans previously featured Batman lethally mauling Joker in the Season 1 finale, it was all in Dick's warped mind. This time around, though, the grief-stricken Bruce went off and did the unimaginable after Barbara blamed him for being just as destructive and damaging to Gotham City as The Joker. He went to Arkham as Bats, and he apparently beat the Joker to death. Considering everything happening with Jason's transition, combined with the way that scene featured the soon-to-be-discussed Red Hood theme, I'm not 100% convinced that The Joker will remain dead, but Batman killing someone is still a major event even if only for a specific time window.
Red Hood!
Okay so technically, fans have known about Red Hood's arrival in Titans' third season for a long time now. However, knowing about something is completely different from watching that something intimidate a room full of thugs with a bag of disembodied heads. That's like the umami of supervillain tactics. Red Hood's mask and voice are just as perfect as Deathstroke's were in Season 2 with Esai Morales, although Red Hood's dramatic impact was admittedly watered down a little each time Jason did anything that didn't involve in Episodes 2 and 3. That said, I'm here for the villain's crunchy, paranoia-stoking theme regardless of which version of the character is shown at the time.
The Scarecrow Is A Total Stoner, Man
As intrigued as I already was with Mad Men vet Vincent Kartheiser being cast as Jonathan Crane, my interest compounded tenfold upon seeing that Titans isn't playing him up as a creepy loon, but rather as a brainy pothead serving up GCPD's version of Hannibal Lecter. I'd be perfectly comfortable just seeing this iteration of Jonathan Crane blazing up in his cell while sharing criminal insights, too, but now I'm banking all kinds of hopes on Scarecrow's weed-laced interests factoring into how the villain's Fear Toxin will impact its victims. I'm assuming the biggest fear addressed will be spilling a White Russian on the rug that tied the room together.
Ra's Al Ghul Namecheck
When Episode 3 kicked off, Titans featured a quick bit of speculation about what went into Jason's sudden death reversal, and Dawn guessed "Ra's al Ghul" as someone who could have been responsible, given his access to the resurrection-friendly Lazarus Pits. However, Dick says it's unlikely, as Ra's was in Khadym, the Middle Eastern country that serves as the home for the villain and his League of Assassins. (Interestingly, or not, Titans' subtitles list the country as "Kadeem.")
R.I.P. Hank!
Just seeing that Episode 3's title was "Hank & Dove" made me automatically suspicious that something terrible would happen to Alan Ritchson's buff bro-bro Hank, who thankfully got to break out his Hawk gear a few more times before somewhat shockingly being killed off. Shocking because it felt like the kind of episode-long threat that would inevitably be reversed in the end, and because it was Dawn's decision to give into Jason's violence that caused the explosive lodged in Hank's chest to detonate. It's not like she put it there or anything, but she's still going to feel turrrrible about it. The death wasn't so shocking, however, considering Ritchson is the star of Amazon's highly anticipated Jack Reacher series, leaving him pretty strapped for time. Of course, he might very well also come back as Red Hood 2.0 down the line, because Titans and DC.
On top of all that, we have whatever the heck is going on with Anna Diop's Starfire and the weirdness taking over her mind (and body), along with the impending return of Teagan Croft's Rachel/Raven and Conor Leslie's Donna/Wonder Girl. Bring. On. Scarecrow's. Fear. THCoxin. That was pretty good, right? Anybody? Nothing? Not even from the people whacked out on Joker gas?
Titans will drop new Season 3 episodes on HBO Max (opens in new tab) every Thursday at 3:01 a.m. ET. And you don't even need a Batcomputer to see all the other awesome shows hitting the 2021 Fall TV schedule.
Assistant Managing Editor
Nick is a Cajun Country native, and is often asked why he doesn't sound like that's the case. His love for his wife and daughters is almost equaled by his love of gasp-for-breath laughter and gasp-for-breath horror. A lifetime spent in the vicinity of a television screen led to his current dream job, as well as his knowledge of too many TV themes and ad jingles.
Your Daily Blend of Entertainment News
Thank you for signing up to CinemaBlend. You will receive a verification email shortly.
There was a problem. Please refresh the page and try again.