Titans Season 2 Finale Trailer Reveals First Look At Nightwing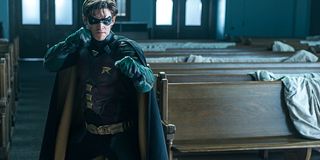 Season 2 of DC Universe's Titans is almost over and the season finale looks to be incredibly intense. The series has dropped a lot of clues regarding Dick Grayson's evolution from Robin to Nightwing and it's been a slow burn. At long last, Titans' Season 2 finale trailer reveals the first look at Nightwing's costume and it was worth the wait.
Back in October, Titans star Brenton Thwaites discussed his character's development and how suiting up as Nightwing would factor into Season 2. It's no secret that Dick has struggled a lot with his anger over the last two seasons. He went from cursing Batman's name to seeking his advice. However, Dick had to hit rock bottom before he could finally don the iconic Nightwing suit in the Season 2 finale. You can check out the first glimpse of Nightwing's full suit in the Season 2 finale trailer, below.
The idea for the suit's design came while Dick was in prison. While serving a sentence as punishment for what happened with Slade Wilson's son, Jericho (Chella Man), Dick met a man who believed in Alazul, a hero worshiped by locals in the fictional country of Corto Maltese. This is where the differences between the comic story and live-action come into play.
In the comics, it was Superman who told Dick the story of a legendary Kryptonian man who was disowned by his family and took up fighting crime to help others. Dick took the moniker of Nightwing, named after a Kryptonian bird, in the man's honor.
The suit in the trailer is magnificent and draws from the comic book design. The suit is all black with Nightwing's insignia stretched across the top of the costume.
Dick debuts his suit for the first time to fight Slade Wilson (Esai Morales) at an amusement park. In Dick's hands are Nightwing's weapons of choice: his escrima sticks. The trailer is action-packed and teases that a "Titan will fall," while "another will rise." It's all very ominous, but I'm hoping that the Season 2 finale will at least wrap up the storyline of Deathstroke's revenge before moving onto other plots for Season 3.
Prior to Season 2's premiere, series footage seemed to tease Dick stepping into Batman's shoes before moving onto Nightwing. Thankfully, that didn't happen. One step at a time, I say. Dick's transition to Nightwing is an exciting moment for fans who have long waited for him to finally embrace who he is and leave Robin behind. The Season 2 finale trailer seems to revel in the moment. It's been a long-time coming, after all.
The Season 2 finale of Titans airs Friday, November 29 on DC Universe. As fall TV winds down, be sure to check out our schedule detailing all midseason premiere dates and times.
Your Daily Blend of Entertainment News