Netflix's Live-Action Avatar: The Last Airbender TV Show: 6 Quick Things We Know, Including Its Focus On POC Casting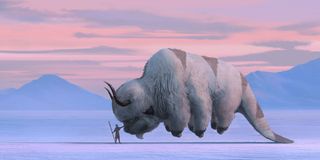 When it comes to live-action adaptations of cartoons, the last couple of years have been ripe with the announcements of new additions to the pack, but nothing has gotten quite as much hype as when Netflix announced they were developing an Avatar: The Last Airbender live-action TV show for the popular streaming platform.
Like many others, I grew up watching Avatar. I have a deep love for it in my heart - I even have an Appa hat! So, when I heard another live-action version was going to be released (after the horror show that was the M. Night Shyamalan adaptation), I was understandably a bit hesitant. Luckily, we know a little bit about this upcoming series, including its focus on POC characters, and trying to get this adaptation just right for the fans.
There Is No Set Premiere Date For The Live-Action Avatar Series
This isn't much of a surprise, but there isn't a set premiere date for the Avatar: The Last Airbender live-action series yet, so don't look for it on any 2021 Netflix TV series release list.
The show was announced a year back, right when the original cartoon started to gain traction again on Netflix. But, at the very least, we have gotten some news as of late, so hopefully, a release date announcement won't be far away - but don't count on it.
The Avatar: The Last Airbender Cast Includes Gordon Comier, Kiawentiio, Ian Ousley And More
Even if we don't have a set premiere date yet for the Avatar: The Last Airbender series, we do, at the very least, know some of the major characters of the series. Aang, Katara, Sokka and Zuko have all been cast for this Netflix adaptation.
Gordon Cormier will star as Aang, the titular Avatar, who is an airbending prodigy and must learn all four elements to stop the Fire Lord. Kiawentiio is Katara, a young girl who is the last waterbender of the Southern Tribe.
Ian Ousley is Sokka, Katara's older yet funny brother, who takes his warrior skills seriously and wants to keep his tribe protected. Dallas Liu is Zuko, the banished prince of the Fire Nation, who is on an obsessive quest to somehow find the Avatar, return them back to his father, and regain his honor.
I'm assuming that since this is only the first season, it will be much like the original series and only cover Aang learning waterbending - so don't expect any Toph. But, hopefully, we might get news on other key characters soon (cough, Uncle Iroh, cough).
Albert Kim Will Be Showrunner For The Live-Action Avatar Series
With the announcement of the main cast, it also came out that Albert Kim would be acting as showrunner, as well as executive producer, for the Avatar: The Last Airbender live-action series.
Kim has worked on several other TV shows before as a writer and a producer, including Sleepy Hollow, Nikita, ESPN Hollywood, and more, so it's exciting to see him take on the challenge of adapting this beloved series.
In a blog post released by Netflix, Kim talked about his love for the show, and how the idea of bringing this world to the streaming platform got him thinking:
For someone as passionate as he is about the show, I'm eager to see what he adds in terms of bringing these characters we love to life.
Kim Is Focusing On Properly Representing The Avatar Characters In The Live-Action Series
Throughout the same blog post, Kim continued to say that his plan is to not only expand on the world of Avatar: The Last Airbender as a whole, but to still stay as authentic to the original experience as possible, including the proper representation of each of the characters...
The representation of the main characters was one of the biggest critiques of the only other Avatar: The Last Airbender adaptation, so to see someone care so much about wanting to get this version right fills me with hope that this series will be a success.
Filming Is Rumored To Start in November For The Avatar: The Last Airbender Live-Action Series
Now, don't take this too seriously, but there have been some rumors flying around that filming is set to begin for the Avatar: The Last Airbender live-action series sooner rather than later. It would make sense, considering that the main cast has been announced, but keep in mind that it's still just a rumor.
According to North Hollywood Buzz (via CBR), the upcoming series is set to start production in mid-November in Vancouver, Canada, under the working title, "Trading Winds."
It would make sense for the series to begin in a colder area, considering a good half of the first season of the original is spent near icebergs. Even so, the very idea of it starting so soon has me anxious to learn more - even if nothing is confirmed yet.
The Original Avatar Creators Are No Longer Involved In This Series
Now, this is the one aspect of the new Avatar: The Last Airbender series that I'm not feeling. The original creators of the cartoon, Michael Dante DiMartino and Bryan Konietzko, have left the Netflix series, citing "creative differences" as the main reason for their departure, according to Entertainment Weekly. They later went on to make Avatar Studios with Nickelodeon.
Now, as an Avatar fan, this, understandably, scared the heck out of me, considering the last thing I wanted was for the series I loved so much to change so heavily. And, since the original creators are no longer involved, that frightened me even more.
However, I do have faith that because Albert Kim loves the series so much and promises that it will be authentic, we will hopefully have a great addition to the Avatar universe.
From one-off comics about beloved Avatar characters, to spinoffs that have captured the hearts of viewers, Avatar: The Last Airbender has a rich and lore-filled universe, and I can only hope that the new Netflix series will cater to that and only add good things, rather than bad. Now, we just need to know who will play Uncle Iroh, ASAP.
Big nerd and lover of Game of Thrones/A Song of Ice and Fire. Will forever hate season eight. Superhero and horror geek. And please don't debate me on The Last of Us 2, it was amazing!
Your Daily Blend of Entertainment News
Thank you for signing up to CinemaBlend. You will receive a verification email shortly.
There was a problem. Please refresh the page and try again.