Why What If…?'s T'Challa Episode Is A Perfect Showcase For The Character And The Late Chadwick Boseman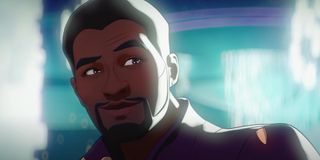 CinemaBlend participates in affiliate programs with various companies. We may earn a commission when you click on or make purchases via links.
Major spoilers for the latest episode of Marvel's What If…?, "What If... T'Challa Became a Star-Lord?", lie ahead.
Many of us had mixed emotions heading into this week's episode of What If…?. Although this latest installment would give us a chance to revisit Chadwick Boseman's iconic hero, it also marks one of the actor's final performances in the role. Luckily, the episode succeeds by firmly placing the spotlight on the prince-turned-space adventurer. But just how did it manage to highlight Boseman and display everything we love about T'Challa, all while flipping the script on his history? We'll let's talk things out, shall we?
Marvel's What If…? is still early into its run, but the show is already making serious waves. Things got off to a solid start with instant fan-favorite Captain Carter in the premiere, but fans are now taken with the new spin on Black Panther's T'Challa. On the show's second episode, the Watcher takes viewers to another alternate reality in which Yondu Udonta and the Ravagers abducted the prince of Wakanda instead of Peter Quill. As a result, T'Challa grew up to become Star-Lord and an integral member of the Ravagers. This makes for a cool story that not only entertains but serves as a perfect showcase for the beloved character and his actor, the late Chadwick Boseman.
What If…? Perfectly Highlights T'Challa's Positive Energy And Sense Of Adventure
T'Challa has seen his fair share of adversity during his tenure in the Marvel Cinematic Universe. When we first meet him in 2016's Captain America: Civil War, he was quickly faced with the murder of his father, T'Chaka. And in his 2018 solo film, he had to reckon with the arrival of his cousin, Erik Killmonger/N'Jadaka, whose circumstances were a direct result of T'Chaka's indiscretions. But ultimately, instead of dwelling on the past and the tragedies he's witnessed, T'Challa has mainly chosen to remain optimistic and only looks ahead to the changes the future might hold.
It's T'Challa's sense of adventure that put him on the Ravagers' radar in What If…?, but it's his upbeat and positive attitude that truly endeared him to the space outlaws. This ultimately encouraged the group to change their ways and become a force for good in the galaxy. Even the villainous Taserface had a change of heart. It's ironic because I was wondering how the Ravagers might rub off on T'Challa and didn't even consider that the opposite might be the case. Yet it falls right in line with what we know about the Wakanda-born hero, and it was great to see that shine through on the show.
T'Challa's Skills As A Fighter Are Completely Intact On What If…?
Even though T'Challa isn't one to rush into a fight, he's still proven to be a formidable combatant. From the moment he first appeared in costume in Civil War, he dazzled audiences with his moves, which served him well when tangling with Bucky Barnes and squaring off with Erik Killmonger. What If…? is no different, as the episode's opening showed him quickly taking down Korath and his forces. And later, he put up a valiant fight against the Collector, with some help from Yondu.
What's especially impressive about all of this is that theoretically, this T'Challa variant doesn't have the help of the heart-shaped herb. Fans will likely remember that this native Wakandan plant is what has given all of the Black Panthers their heightened abilities. With that in mind, watching T'Challa dodge daggers from a superpowered Collector is even more amazing. Yes, T'Challa's regal nature should be celebrated, but let's also not forget the "warrior" aspect of his designation as a "warrior-king."
T'Challa's Empathy Is A Key Reason For The Ripple Effects Seen On His What If…? Episode
There's plenty to love about T'Challa, but one aspect of his characterization that has truly endeared him to audiences is his sense of empathy. While he may not agree with a person's position, he'll typically seek to find common ground with a person instead of creating a conflict. For instance, he and Killmonger certainly had their differences, but the conflict that played out between them was ultimately one T'Challa wanted to avoid. And by the end, the King of Wakanda greatly understood his cousin's struggle and the goals he wanted to achieve. And let's not forget that instead he also sought to relate with his fellow diplomats at the UN during Black Panther's mid-credits scene.
And if you're wondering how this attribute shone through in What If…?, look no further than Thanos. Only a person of true empathy could connect with and even change the ways of a maniacal being like the Mad Titan. And let's not forget that he also forged bonds with Nebula and Korath (a big Star-Lord fanboy). On the surface, it's a true testament to the creativity of the show's writers. Yet it's also a powerful testament to just how impactful T'Challa can be within the MCU.
Chadwick Boseman Utilized His Various Acting Abilities For What If…?
Of course, I'd be remiss if I didn't take some time to discuss the man behind the character. We all know what Chadwick Boseman could bring to a performance, both inside and outside of his Marvel work. We've seen his wit and soulfulness in films like Get on Up, and his earnestness is what makes movies like 42 so strong. If I'm being honest, his What If…? performance represents some of his strongest work, as Boseman is given the freedom to be noble and warm but also funny and roguish in a way that T'Challa usually isn't portrayed. The hero's dry and humorous opening exchange with Korath and his tense confrontation with Yondu (after discovering the Ravager captain lied to him about Wakanda being gone) are only a few of the scenes in which Boseman truly shines.
Chadwick Boseman's performance is even more impressive when you consider that he had no prior voice acting credits to his name. All of this honestly makes the late actor's appearance on What If…? even more bittersweet, as it's a solemn reminder of what Hollywood will be missing moving forward. Nevertheless, fans can take comfort in knowing that he was able to branch out for one of his final performances.
Chadwick Boseman reportedly lent his vocals to four episodes of Marvel's What If…?, which means we still have three more episodes with him to look forward to. It's very likely he won't feature as heavily as he did in this new episode but, if this episode was any indication, the writers are sure to have handled any other T'Challa variants with immense care.
Be sure to check out new episodes of Marvel's What If…? when they drop Wednesdays on Disney+. You can also revisit T'Challa's past MCU appearances by streaming the movies on the streamer, which you can sign up for using this link (opens in new tab).
Covering superheroes, sci-fi, comedy, and almost anything else in film and TV. I eat more pizza than the Teenage Mutant Ninja Turtles.
Your Daily Blend of Entertainment N