Candace Cameron Bure's Daughter Shouts Out That Time Her Dad Grabbed Her Mom's Boob On Instagram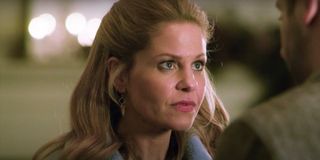 (Image credit: Hallmark)
For a some couples, quarantine acted as a mirror for hard truths in relationships last year. (Many Real Housewives can attest that they didn't like what they saw in such confined quarters.) Yet for Fuller House star Candace Cameron Bure, things only got more spicy (and handsy) in her decades-long marriage. A boob grab pic with her husband, Valeri Bure, even went viral. Now almost a year later, their daughter is hilariously giving a shout out to the handsy Instagram pic in question.
On Thursday, 23-year-old Natasha Bure was doing a Q&A with her followers on Instagram. They innocently asked her what was her "fave pic" of her mom Candace Cameron Bure with her dad. To everyone's surprise, per People, she claimed the viral boob grab in September 2020 was the one. If you missed the "sweet and spicy" photo, check it out below:
It's definitely comical (and surprising) that Candace Cameron Bure's daughter chose that pic as her favorite. Not their wedding photo, not them holding her as their firstborn child... Nope, a playful boob grab. I guess it is some kind of marriage goal to aspire to. After all, they have been together 25 years now. (In that time, the Fuller House actress has been frank about her less-than-perfect tendencies.)
Some folks, however, did not see Candace Cameron Bure's husband grabbing her boob the same way. In fact, some of her Christian fanbase blasted her at the time, believing the photo was inappropriate. Cameron Bure responded to all the hoopla that her husband can touch her "anytime he wants" and that it was just part of having a "healthy, good marriage." A few months later, she expanded on the issue, saying that their fun flirtations in their marriage were why she was "not bored" after all this time together. The Hallmark actress also directly addressed misconceptions and stereotypes in the Christian community, noting to fans that sex (and sexy pics, apparently) are "not to be shameful."
But Candace Cameron Bure actually ran into this problem again more recently. Last month, she again received a backlash over a TikTok that featured her, a bible, and Lana Del Rey's song "Jealous Girl." She apologized and took down the video but also explained that it was not meant to be "seductive," as some fans suggested, and that she was actually attempting to exude only a strength.
Boob grabs and Lana Del Rey renditions notwithstanding, Candace Cameron Bure is still working her G-rated acting skills. Fuller House came to an end after five seasons in 2020, but she is still prolific on the Hallmark scene. She actually took up her old Aurora Teagarden character again, a role she has had for over 6 years and 17 TV movies. Fans can check out the latest, Aurora Teagarden Mysteries: Honeymoon, Honey Murder, on the Hallmark channel on August 22.
Freelance writer. Favs: film history, reality TV, astronomy, French fries.
Your Daily Blend of Entertainment News
Thank you for signing up to CinemaBlend. You will receive a verification email shortly.
There was a problem. Please refresh the page and try again.