The Big Bang Theory's Kaley Cuoco Discusses The 'Humbling' Experience Of Transitioning To The Flight Attendant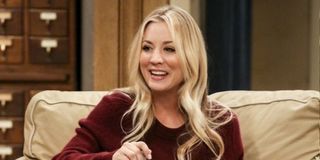 It's hard to believe that The Big Bang Theory came to an end in 2019, but it's already been over two years since we last saw Sheldon, Leonard, Penny in their apartment building's hallowed halls. Most of them quickly moved on to new projects — with Mayim Bialik currently in the middle of a Jeopardy! fiasco — and that includes Kaley Cuoco. The BBT vet stars in and executive produces HBO Max's The Flight Attendant, but making that transition was not an easy career switch for Cuoco.
Within the Emmy- and Golden Globe-nominated The Flight Attendant, Kaley Cuoco stars as the boozy and foul-lucked Cassie Bowden, and the comedic drama is one of two HBO Max series that she's currently executive producing, along with the R-rated animated series Harley Quinn. While talking to PEOPLE, Cuoco admitted that she's still learning a lot about the production process and she is not one to shy away from asking too many questions when there's something she doesn't understand:
As an executive producer for the bloody new series, The Big Bang Theory alum is right to be nervous about handling more than the performance side. It's not uncommon for stars to serve as EPs on their own series, since the gig isn't quite as involved as a producer proper. But Kaley Cuoco definitely isn't interested in sitting back and resting on her laurels, as she wants to know all the ins and outs of what goes into the process. And it's clearly working out so far, or else she and the series might not have earned so many accolades after the first season.
Part of that learning process also involves understanding just how complicated starting up a new TV series can be, as Kaley Cuoco explained she had no idea how many crew members were involved from the start of the pre-production phase. In her words:
Being an executive producer these days isn't an easy gig, and the same goes for just about every job down the ladder. And Kaley Cuoco also felt the pressure of having to follow up on one of the biggest TV shows of the past 20 years. Both before the series premiered and in the months after, she has thanked her Big Bang Theory fandom for all the support. Having portrayed Penny on the CBS sitcom for the show's twelve seasons, Cuoco was a tad nervous about moving onto something so different, though that fandom came out in full force and quickly showed their love for Cuoco's new series.
Kaley Cuoco seems to be having as great a time on The Flight Attendant as viewers have had watching Cassie's nerve-grinding antics, despite some awkward moments and tough challenges that went into the sex scenes, her playing an alcoholic character, and nearly breaking her foot while doing a stunt. So we can only hope that Season 2 will be just as awesome as the first, if not better now that she's getting the hang of things a lot more.
Passionate writer. Obsessed with anything and everything entertainment, specifically movies and television. Can get easily attached to fictional characters.