That Time Kaley Cuoco Committed Really Hard To A Flight Attendant Stunt And Thought She Broke Her Foot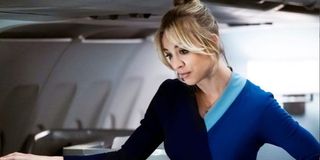 Stunt work is a major part of many Hollywood productions, especially larger, effects-driven movies. But as it so happens, playing a flight attendant on a TV show can actually be somewhat treacherous. Kaley Cuoco can attest to this, as she's revealed that she was so committed to her HBO Max series, The Flight Attendant, that she performed a stunt and thought she actually broke her foot.
On her Instagram, Kaley Cuoco shared a few excerpts from a recent interview she did with People. During the chat, the actress discussed her acclaimed series and role. She also reflected on injuring her foot while filming the HBO Max series. Needless to say, it sounds like a wild situation:
When it comes to most TV and movie productions, actors typically utilize doubles for major stunts. This is usually due to producers' goal to keep their stars as safe as possible. Kaley Cuoco's decision to do the small stunt may not have been a risky decision but, as she says, it does show her sheer commitment to the job. And considering that the role earned the actress her first Golden Globe nomination earlier this year, as well as her first Emmy nods, I'd say it all paid off.
It's definitely not uncommon for an actor to want to do their own stunts. While there is something inherently cool about an actor doing stunts themselves, leaning on a stunt double is definitely not a bad thing. Sure, Kaley Cuoco didn't actually end up breaking her foot, but one can imagine that the injury was still somewhat painful for her. Not to mention the fact the producers were probably nervous when things went sideways.
It's probably a safe bet that Kaley Cuoco will be more cautious for Season 2, especially since she thinks making the upcoming season will be just a tad more challenging than Season 1 as is. Given the way the series set up things for the future, The Flight Attendant will likely be going the extra mile for the sophomore season. Let's just hope that Cuoco doesn't hurt herself again and will actually listen to the crew when they advise her against doing a stunt.
It'll be exciting to see what kind of surprises Kaley Cuoco and her collaborators have in store for Cassie Bowden during the second season of The Flight Attendant. And if it's even half as crazy as its predecessor, then viewers are going to experience some serious turbulence.
Passionate writer. Obsessed with anything and everything entertainment, specifically movies and television. Can get easily attached to fictional characters.
Your Daily Blend of Entertainment News
Thank you for signing up to CinemaBlend. You will receive a verification email shortly.
There was a problem. Please refresh the page and try again.