Cowboy Bebop Fans Agree Netflix's Live-Action Series Looks Sick, But There's One Problem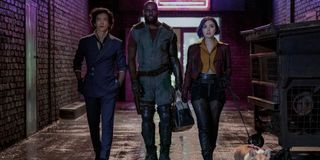 Netflix just released a slew of images for its upcoming live-action Cowboy Bebop series and, damn, it looks absolutely sick. John Cho may be a bit older than Spike Spiegel was in the series, but that hairstyle is on point, and Mustafa Shakir's Jet and Daniella Pineda's Faye look spot-on. Of course, things aren't perfect, as some fans are concerned about the exclusion of a key character.
Spike, Jet, Faye, and even cute little corgi Ein were featured in the new photos for Cowboy Bebop, which made it all the more surprising that one character was not present. Fans, who were sharing thoughts on Twitter, couldn't help but notice the absence of Ed, the 13-year-old girl hacker that traveled alongside the team on many of their adventures:
Radical Ed, as she was called in the series, accompanied the Cowboy Bebop crew on more than a few occasions, so many assumed she would be in the live-action series. The fact that Ed is not present in any of these cast images has some worried the character isn't in the series at all. Meanwhile, others a little worked up:
Ed's presence in Netflix's Cowboy Bebop is unconfirmed at the moment, and there's already been a lot of discussion about whether or not she'd need to be involved for this series to be successful. Ed may be a memorable character from Cowboy Bebop, but whether she's as important as Spike, Jet, or Faye is debatable. Some understand that she may not be a character to prioritize within the series right off the bat, but many would certainly like to see her in the future if possible:
It's honestly not crazy to think Radical Ed is being held for Cowboy Bebop Season 2. As many fans probably remember, Ed did not make her debut in the original Cowboy Bebop anime until Episode 9, "Jamming With Edward." There are only 26 episodes of the Cowboy Bebop, so Ed doesn't appear until 1/3rd of the series is over. So it would make sense if she doesn't appear alongside the crew right away. There's also the possibility that her appearance is being kept under wraps because she plays a big role in Season 1:
I'm 100% down for a surprise Ed cameo in the Cowboy Bebop trailer, though I agree with other fans that I'd also be willing to wait for a potential appearance from her in Season 2. I'll also say that as good as this Netflix series looks at the moment, I can't deny the experience would be a bit soiled without Ed in the mix. I mean, if Ed's not around, who's going to chill out with Ein when the crew is out on a bounty mission? It's a good question, and one that fans can't help but consider:
Cowboy Bebop's success as a series hinges on a lot more than Ed's appearance, of course, and it has high expectations to meet. The original anime is considered a classic by both casual and hardcore fans of anime, which may be why so many have combed over these latest pictures, nitpicking the tiniest of details. I'm optimistic the series can pull it off and will almost certainly be devastated if it doesn't.
Cowboy Bebop is set to premiere on Netflix Friday, November. 19th. Those in the mood to binge anime after seeing these new photos can certainly do so and should reference this list of sources, where they can binge some of the classics.
Mick likes good television, but also reality television. He grew up on Star Wars, DC, Marvel, and pro wrestling and loves to discuss and dissect most of it. He's been writing online for over a decade and never dreamed he'd be in the position he is today.