Cowboy Bebop: 8 Quick Things We Know About Netflix's Live-Action Series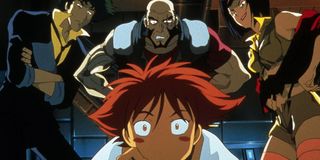 You know why I really like the immensely popular anime, Cowboy Bebop? Because it's short. That might not seem like a good reason to like a series, but let me explain. Unlike a lot of other anime that just seem to go on and on and on, Cowboy Bebop, which is about a small crew of space bounty hunters tracking down some lively criminals (all set to some jazzy music) has a definitive ending. And this gets me even more excited for the upcoming Cowboy Bebop live-action series coming to Netflix, since it means that if it's like the anime, then we'll likely have a great show that won't wear out its welcome.
That's if the live-action series follows the anime, though. There's actually still a lot that's unknown about this live-action show, which had to halt its production for 9 months after its main star suffered a knee injury. That being said, we've scrounged up 8 quick things that we do know for certain about the upcoming series. And as for anything else that may come about? Well, "whatever happens, happens."
John Cho, Mustafa Shakir, Daniella Pineda, And Alex Hassell Will All Have Major Roles In The Cowboy Bebop Cast
I normally don't say a show has perfect casting, but when I heard that John Cho would be playing series mainstay, Spike Spiegel, I thought, "Well, that's some perfect casting." Spike Spiegel was once a hitman, but is now a bounty hunter aboard a ship called the Bebop. Also on that ship are its captain, a former police officer named Jet Black, who will be played by Luke Cage's, Mustafa Shakir, and an amnesiac named Faye Valentine, played by Jurassic World: Fallen Kingdom's Daniella Pineda. The Boys star, Alex Hassell, will be playing series antagonist, Vicious. We also know that Strange Angel's, Elena Satine, will be playing Spike's love interest, Julia. So, yeah. The cast is pretty stacked.
Radical Ed Will Be On The Show, Too… But We Still Don't Know Who's Playing Her
But you might be asking, what about Radical Ed, the hacker from Earth? Well, according to Netflix, Radical Ed is coming… but at the time of that 2019 announcement, she hadn't been cast yet and there's been no announcement since. "Radical Ed's" real name is actually Francoise Appledelhi, and her own spacey father wasn't even sure if she was a boy or a girl. Ed came on the show in episode (Or rather "session") 9, and became a fan favorite since she brings some levity to the Bebop. There's no word on whether the Corgi, Ein, will also make an appearance, but a video from Netflix hinted at it, so, we'll see.
The Show Will Also Make One Fan Favorite Character Nonbinary
Fan favorite character (and killer saxophonist), Grencia Mars Elijah Guo Eckener, better known as Gren, will be portrayed by Mason Alexander Park, who will also play Desire on Netflix's upcoming Sandman series. Gren, who was in the excellent session, "Jupiter Jazz (Part 2)" was a gender fluid character before that was really seen on television. That said, Netflix is going one step further by specifically stating that Gren will be a nonbinary character. This is what the LGBTQ+ Netflix Twitter account, Most, tweeted out:
This is awesome news, and I'm looking forward to seeing this arc of the show featuring a true nonbinary actor in the role. Progress!
Christopher Yost We Be Writing The First Episode
Thor: The Dark World (Boo!), and Thor: Ragnarok (Yay!) writer, Christopher Yost, will be writing the first episode of the series, which is still untitled as of this point. But unlike the anime, which had episodes that were about 22 minutes in length, the live-action series will have episodes that should be about an hour long each. And if you happen to be worried about whether Christopher Yost can get the job done, the writer himself thinks you should just calm down. According to a tweet of his, he had this to say:
So, there you have it. They've got this. I just hope that they Thor: Ragnarok got this, and not Thor: The Dark World got this. Just sayin'.
There Will Be 10 Episodes In The First Season
Interestingly enough, there will be 10 confirmed episodes in the first season. Now note this: We all know that Netflix sometimes tends to cancel shows that aren't getting enough views, so the "first season" very well could end up being the "last season". We don't know yet. But with the original series having 26 episodes (and one movie) that were about 22 minutes in length, and the live-action series being 10 episodes that are about an hour in length each, that means that Netflix could technically do the entire series in one season if they wanted to rush things and cram some of the anime episodes together. So, as Jet Black (Yes, the anime character) might say:
So, yeah, what he said. There will be an eventual end. Let's just hope that it's not presented in one season.
The Composer of the Original Series, Yoko Kanno, Will Be Doing The Soundtrack For The Netflix Show
If you like Cowboy Bebop, then one thing you have to love about the show is its music, as it sounds like no other anime. That's why I'm overjoyed to hear that the original composer, Yoko Kanno, will be providing the score for the live-action series. Honestly, I was a little on the fence about the show until I heard this news, since music is such a huge part of the series. But now that I know that she's on board, well, maybe they do actually "got" this. This is really great news. Could a new rendition of "Goodnight Julia" be in our future? Only time will tell.
The Show Will Be Coming Out Fall 2021
Speaking of time, when will the show debut on Netflix? Fall of this year. When in fall of this year? I don't know. Just fall. Stop asking me. But if you're especially antsy and don't want to be late to the party ("3, 2, 1, let's jam!") whenever it debuts, you could always just go to the Cowboy Bebop's Netflix page and click "Remind Me". Such things are possible in the modern age.
The Series Creator Will Be Overlooking The Netflix Show
Lastly, series creator, Shinichiro Watanabe, who also created Samurai Champloo (which I also have to talk about on this site sometime), will be a creative consultant for the live-action series. Much like the news of Yoko Kanno working on the show, hearing that the series creator will be looking over the series to hopefully see that it meets his vision, is just plain awesome. Honestly, "Fall 2021" can't get here soon enough!
So, that's what we currently know about the upcoming Netflix series. But if you can't wait until "Fall 2021", why not check out some of the best shows to binge watch on Netflix right now? Come on. You know you want to.
This poll is no longer available.
Your Daily Blend of Entertainment News
Rich is a Jersey boy, through and through. He graduated from Rutgers University (Go, R.U.!), and thinks the Garden State is the best state in the country. That said, he'll take Chicago Deep Dish pizza over a New York slice any day of the week. Don't hate. When he's not watching his two kids, he's usually working on a novel, watching vintage movies, or reading some obscure book.