Next Season Of The Real Housewives Of New York Might Be Bringing Back Some Familiar Faces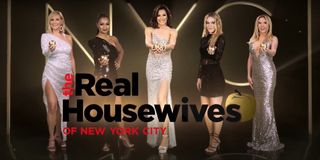 (Image credit: Bravo)
In the currently airing season of the Real Housewives of New York, a new dynamic is on the rise. Leah McSweeney's sophomore return combined with Eboni K. Williams' freshman premiere, notably as the first Black castmate in the show's history, has created an interesting friction with the alums. There's clearly a generational gap that is worsened anytime Ramona Singer discusses anything with them. But supposedly, things will change once again in the next season, with some old familiar faces possibly returning to reclaim (or replace) seats.
Apparently, the deck will reshuffle once again in Real Housewives of New York's Season 14. According to a source for French outlet Deauxmoi (via Radar Online), Bravo is hoping to bring back Bethenny Frankel and Tinsley Mortimer in the next season. Mortimer is reportedly "closest to signing," with Frankel "not far behind."
We predicted that Bravo would attempt to bring Tinsley Mortimer back into the Real Housewives of New York fold at some point. What with her engagement to Scott Kluth falling apart this year and Dorinda Medley no longer part of the show, her return makes the most sense. Although, it might be kind of awkward to accomplish, considering her friend Leah McSweeney (who she in fact brought onto the show) has outshined her in terms of drama and storyline. The source shockingly claims, however, that McSweeney and Sonja Morgan are the ones on the chopping block if new or returning ladies are brought in.
I'm not quite buying that Sonja Morgan or even Leah McSweeney could be so easily replaced by Tinsley Mortimer. But Real Housewives of New York alum Bethenny Frankel is another story entirely. Frankel frequently pops in and out of the show at her leisure, but her last exit after Season 11 seemed permanent. (Just this year she produced and hosted her own show on HBO Max.) On Twitter, Frankel herself shot down the speculation. But it would still be a personal dream of mine to see the likes of Frankel and Leah McSweeney on the show at the same time.
Fans were treated to a taste of old familiar faces in this season of the Real Housewives of New York. Namely, alum Heather Thompson briefly returned as a friend of the show (but it seems Leah McSweeney ultimately scared her off). Nevertheless, speculation has churned that the longest-running castmate, Ramona Singer, was going to be fired after this season. But the source here alleges that this won't actually be the case because she's "the only one performing in the key demographics." Perhaps Rihanna personally calling her out by name helps, too.
Meanwhile, newcomer Eboni K. Williams has stirred up some debate amongst certain fans, wherein they have echoed Ramona Singer's sentiments that Williams talks about race too much. At one point this season, Williams even had to take a mental health-driven social media hiatus amidst controversial episodes airing. According to the source, though, Williams' viral moments that cause huge discussions on Twitter and elsewhere are a boon for her potential return.
If the Real Housewives of New York's current Season 13 has taught us anything, it's that something needs to give. Either newbies need to take over the cast or the network should stick to the alums that fans are used to. Apparently, they might just be going with the latter approach. But is that for the best? Tune into this season's final episode on Aug. 31 at 9 p.m. EST.
This poll is no longer available.
Freelance writer. Favs: film history, reality TV, astronomy, French fries.
Your Daily Blend of Entertainment News
Thank you for signing up to CinemaBlend. You will receive a verification email shortly.
There was a problem. Please refresh the page and try again.