Rihanna Just Shaded Real Housewives Of New York's Ramona Singer In The Best Way Possible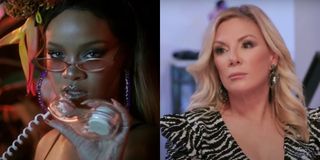 (Image credit: Bravo / Rihanna YouTube)
If there are two names I would never have expected to see in the same sentence, it's Rihanna and Ramona Singer. But dreams apparently do come true because I saw it today! The superstar "Umbrella" singer shaded the Real Housewives of New York star on social media, and I'm absolutely living for it.
Rihanna seemingly decided to grace Ramona Singer with some shade after viewing the July 27 episode of the Real Housewives of New York. Singer had gotten into yet another argument with co-star Leah McSweeney – over fashion no less. McSweeney said she didn't need Singer promoting her Married to the Mob streetwear brand, saying, "I already have Rihanna wearing my shit." Singer dismissed her, claiming she didn't even know the brand and that "it's not even in stores."
But all of that is petty Real Housewives shade compared to the almighty Rihanna laying down the gauntlet. Apparently, she does indeed wear Leah McSweeney's stuff. On an Instagram post, Rihanna posed in McSweeney's "bitch mob" shirt with the caption, "what was said @ramonasinger?" See below:
Clearly, Rihanna is a Real Housewives fan, what with this and Heather Gay claiming the singer DM'd her after the Real Housewives of Salt Lake City freshman season. But I'm not quite sure if Rihanna shading and personally @-ing you on Instagram is the best or the worst thing in the world. It seems like both an honor and a privilege, as well as being totally mortifying. Leah McSweeney commented under the post "I love you so much" and franchise executive producer Andy Cohen simply put blushing emojis. Either way, it's a boon for Bravo's Real Housewives of New York's that has suffered a decline in ratings this season.
Name-dropping is evidently in the air, though. Real Housewives of Beverly Hills star Lisa Rinna just boasted in a recent episode on her spinoff about Drake – a.k.a. Champagne Pappy, and yes that's her pronunciation – following her on social media. Now Rihanna is in the middle of Real Housewives of New York drama? For some, this might be a sign of the end of times. But for me, it's the kind of content that keeps on giving.
Bravo fans know this much: Ramona Singer is likely not embarrassed by Rihanna's shade. (That is, if she even recognizes who Rihanna is, as she is famously prone to not know names.) The Real Housewives of New York star has been known to put her foot in her mouth, literally shit on the floor on vacation, and far worse over the last twelve years on the show. So Rihanna calling her out for something she said probably feels like any old Thursday. Certainly, her co-stars are used to it by now.
Beyond the recent episode that prompted Rihanna's response, Ramona Singer has been consistently finding herself at odds with newcomer Eboni K. Williams. Though Singer has said Williams is a "great" addition to the cast, in actuality she likes to shut down any conversation about race and politics brought up by Williams. Lately, there has even been chatter that Singer could be fired from the show after this season.
If anything, Rihanna's mention of her could help stay her execution from the Real Housewives of New York. But in the meantime, I think Rihanna might have just claimed the reality star's nickname – the Singer Stinger – for her own.
Your Daily Blend of Entertainment News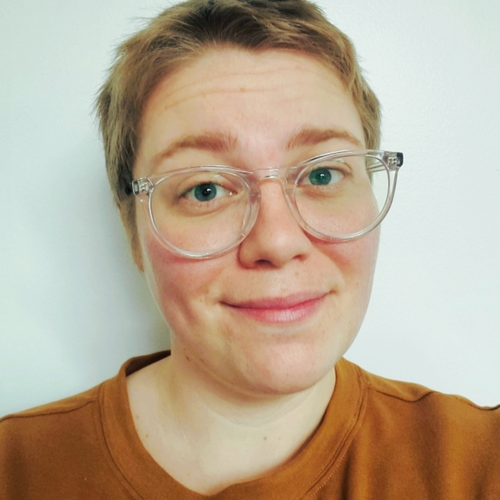 Movies and TV News Writer
Freelance writer. Favs: film history, reality TV, astronomy, French fries.