Manifest Fans Have Wild Theory About Season 4 Announcement That 100% Should Be Real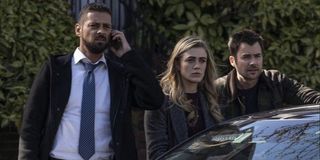 It's been over two months since NBC cancelled missing plane drama Manifest, as well as since Netflix passed on picking up the series for Season 4. Since then, it's been doing extremely well on the streamer, and very nearly hit a milestone. With the month of August getting close to the end, fans are still staying hopeful, though, due to one theory that isn't too out there.
Last month, it was revealed that Warner Bros. TV, the studio behind Manifest, had reopened talks with both NBCUniversal and Netflix. Since NBC had opened up room on their schedule due to the cancelling of Good Girls and deciding to not move forward with Law & Order: For the Defense, there was some chance that the network would rethink their choice. Meanwhile, because Manifest was dominating the Top 10 charts ever since the first two seasons dropped, Netflix also decided to rethink their decision.
Recently it was revealed that Warner Bros. was close to closing a negotiation with Netflix and they were also re-negotiating deals with the cast and writers in anticipation for a possible fourth season. Now, according to a tweet from NetflixLife, fans are clearly hoping more than ever before that an official announcement is only days away. Why? August 28, which is this Saturday, is known in the Manifest fandom as 828 Day due to the missing flight in the series being Flight 828. It would be the perfect time for a renewal, especially since Netflix surprisingly dropped the third and latest season a week prior.
It's not confirmed that August 28 is when an announcement will be made, if there even is an announcement to be made. But, this is the Manifest fandom, after all. It's all about clues and theories, and maybe this is one Calling that they can actually solve? Only time will tell, but it would definitely be the best thing ever if a Season 4 was officially given the greenlight on 828 Day.
Meanwhile, the fans have not stopped trying to get their beloved show picked up. Following the cancellation, creator and showrunner Jeff Rake mentioned that he was reworking the scripts into a two-hour movie to wrap things up. While it wouldn't be ideal to take three seasons of content and jam it into a two-hour movie, it would be better than nothing. And, that's exactly what fellow cancelled NBC drama Zoey's Extraordinary Playlist seems to be doing. The musical dramedy was revealed to have likely been saved by Roku, to air a movie with the potential of getting a full third season.
If Netflix chooses to pick up Manifest, this would be the first show since 2018 that the streamer will save, when it picked up Designated Survivor and Lucifer. The latter became an instant streaming hit and will be dropping its sixth and final season next month. Will Netflix make it official that they have picked up Manifest on 828 Day? Guess we'll know soon.
In the meantime, all three seasons are streaming in full on Netflix.
Passionate writer. Obsessed with anything and everything entertainment, specifically movies and television. Can get easily attached to fictional characters.
Your Daily Blend of Entertainment News
Thank you for signing up to CinemaBlend. You will receive a verification email shortly.
There was a problem. Please refresh the page and try again.