Why Manifest's Creator Is Keeping Kevin Costner's Field Of Dreams In Mind While Waiting On Renewal Update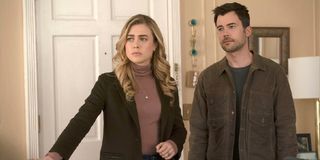 The waiting game continues for the Manifest fandom as they hope and pray for renewal news, or any signs that the missing plane drama will at least get a two-hour wrap up movie. With the series' continued reign on Netflix, talks have reportedly restarted between the streamer, NBC, and Manifest's studio Warner Bros. And believe it or not, creator Jeff Rake is keeping iconic Kevin Costner film Field of Dreams in mind while waiting alongside fans.
Jeff Rake recently discussed Manifest's surprise streaming success and the possibility of the future of the series. During his chat with AllYourScreens, Rake brought up baseball movie Field of Dreams, and he's taken one key element from the classic Kevin Costner movie to heart while he waits in anticipation for renewal news:
Those who have seen Field of Dreams know just how powerful that mantra is. I mean, if it worked for Kevin Costner, who's to say it can't work for Manifest, right?
Plenty of shows have come back from cancellation due to fan campaigns. Both Brooklyn Nine-Nine and Lucifer were cancelled by Fox, and both found new homes on NBC and Netflix, respectively. Also, NBC had cancelled Timeless initially after its first season, before reversing their decision just a day later. The network then cancelled the series again after the second season but gave the show a finale movie to wrap things up. So it's highly possible the same thing can happen to Manifest, especially when you consider how many new fans the show has gained, thanks to Netflix.
Since the first two seasons of Manifest dropped on Netflix last month, the series has been doing exceptionally well on the streamer. It came up short of hitting a major milestone on the platform but has still remained toward the top of trending since being bumped out of its #1 spot. Fans, Rake and the cast are determined to keep the Lifeboat going, and they clearly aren't going down without a fight. Following the third season's twist-filled finale, "Manifesters" will surely stop at nothing to get the answers they desire. Regardless of whether that happens with a fourth season or a concluding movie, a new project will be worth it as long as it solves the neverending mystery of Flight 828.
Passionate writer. Obsessed with anything and everything entertainment, specifically movies and television. Can get easily attached to fictional characters.
Your Daily Blend of Entertainment News
Thank you for signing up to CinemaBlend. You will receive a verification email shortly.
There was a problem. Please refresh the page and try again.