Have Mercy! John Stamos Was Recently In The Hospital, Thanks The Doctors And Nurses For Their Hard Work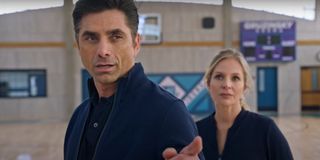 (Image credit: Disney)
The fictional uncle of all our dreams was in the hospital recently. And yes, I'm referring to Full and Fuller House alum John Stamos. (In the words of his iconic Uncle Jesse character, have mercy!) The good news, though, is all is well, and Stamos is up and thanking the doctors and nurses for the hard work.
To the surprise of many, John Stamos posted a pic from his hospital bed on Instagram. Along with thanking his fans, doctors, and nurses, the actor damned his "trigger finger" and explained how he went in for an "elective procedure" to help it. Clearly, Stamos' signature smolder is still potent - even under hospital garb and a face mask. See his post here:
According to the Mayo Clinic, trigger finger is characterized by inflammation that causes fingers to get locked in a bent position, resulting in pain and clicking/popping sensations. Typical treatment includes splints or steroid injections. But John Stamos' trigger finger must have been pretty severe because, supposedly, surgery and hospital stays are resorted to only if more conservative treatments aren't helpful.
We, too, thank the doctors and nurses who took care of John Stamos at the hospital. Selfishly, we want the Stamos renaissance of the past several years to continue indefinitely. Following the success of both the brief 2015 Grandfathered sitcom and the Full House reboot, both of which he also executive produced, Stamos has been cropping up in other standout television roles, such as in Scream Queens, Netflix's You and as a guest mentor on this season of American Idol.
This year, John Stamos also headlined Disney's sports drama series Big Shot, as the temperamental basketball coach of an all-girls private school team. It was well-received by critics, with many noting the strong performances of the cast. In an interview with the New York Post earlier this year, Stamos shared that learning basketball lingo was harder than the medical lingo of his ER days. (Though the latter probably came in handier during his recent time at the hospital.)
His PG-rated acting brand is only one piece of the John Stamos persona, though. In case fans didn't know, Stamos is actually a talented musician as well, who plays both the drums and the guitar. He even has performed and collaborated with The Beach Boys, dating all the way back to 1985. His more than 30 years of beating the drums might just have something to do with his recent hospital procedure for trigger finger. Have mercy, indeed.
Nevertheless, the never-aging John Stamos is apparently all good to continue rocking on and doing his best Tyra Banks "smize." It's great to see that the hospital stay was successful, and we can only hope Big Shot is as well, with a potential second season on the horizon.
Movies and TV News Writer
Freelance writer. Favs: film history, reality TV, astronomy, French fries.
Your Daily Blend of Entertainment News
Thank you for signing up to CinemaBlend. You will receive a verification email shortly.
There was a problem. Please refresh the page and try again.