Below Deck Mediterranean's Malia White Admits To Having Regrets About Reporting Hannah Ferrier In Drug Situation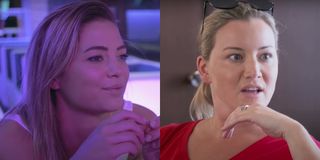 On the last season of Below Deck: Mediterranean, the drama hit a fever pitch. Bosun Malia White reported fan-favorite stewardess Hannah Ferrier to Captain Sandy for supposedly having drugs in her cabin. The decision ultimately led to Captain Sandy firing Ferrier due to maritime law stipulating that any drugs onboard need to be declared. White, who is on the sixth season of the show now airing on Bravo, admits that in hindsight she might have some regrets concerning the Ferrier drug situation.
At the time, Below Deck: Mediterranean's Hannah Ferrier was discovered allegedly having Valium and weed onboard (though she later claimed it was a legal CBD vape pen and prescribed Valium). But it was Malia White's decision to turn her into Captain Sandy that got the most backlash. Many fans perceived White as falsely pretending to care for Ferrier (who was suffering from anxiety attacks) in a vulnerable moment, just to run to the captain with something that could have been handled more discreetly. White recently told Us Weekly that she does regret how some of it played out. She said:
Prior to her firing over the drug situation, Hannah Ferrier had headlined Below Deck: Mediterranean for five seasons. Similar to Kate Chastain on the flagship show Below Deck, fans appreciated her sharp chief stewardess attitude and willingness to go toe-to-toe with anyone's B.S. She may be off Bravo's lineup nowadays, but Ferrier still has a bone or two to pick with Captain Sandy over the manner of her exit. Captain Sandy, in turn, has dismissed Ferrier's criticisms of her leadership on the show.
Captain Sandy certainly doesn't regret what happened last season on Below Deck: Mediterranean. But as for Malia White, she would have done some things differently concerning her involvement in Hannah Ferrier's drug debacle. She said:
Though she can't change her past with Hannah Ferrier, Malia White seems to have somewhat changed her tactics in Season 6 of Below Deck: Mediterranean. White's co-star, Lexi Wilson, had a huge drunken blowup a few weeks back with nearly all her crewmates, including White herself. White was slightly criticized for perhaps egging Wilson on in the moment, but at least she didn't run immediately to the captain with reports of Wilson's physical and verbal altercations with others. (Even if fans seemingly wanted her to at the time.)
It seems Below Deck: Mediterranean castmates can never completely escape having regrets on the show but, for some like Malia White, they can come back to redeem themselves. But those like Hannah Ferrier will likely never get the chance.
I am a vegan feminist. I'm fascinated by all things space/stars. I love film history, reality television, and my cat Bubbe.
Your Daily Blend of Entertainment News
Thank you for signing up to CinemaBlend. You will receive a verification email shortly.
There was a problem. Please refresh the page and try again.