3 Big Stunts The Mythbusters Never Got The Chance To Do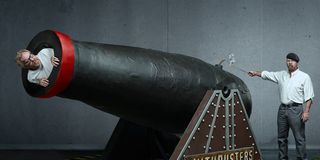 Recently, Mythbusters ended a long and storied run on the Discovery channel with a final episode that paid homage to the series and saw its leads get at least a wee bit sentimental in a few moments. Some great stories came out of the episode, but around the same time the final episode aired, longtime series lead Adam Savage did an AMA in which he admitted there were a few big experiments that Discovery put the kibosh on before they could ever come together. The first one involved a truck full of liquid oxygen (we kid you not). Here's what he had to say:
Honestly, while anything involving liquid oxygen sounds very cool, it's easy to see why Adam Savage, Jamie Hyneman and the rest of the team were a little nervous about this one when it was initially being conceived. Production may have ultimately stopped it from happening, but Adam Savage still seems to have been a teensy bit relieved about the outcome.
There was another myth that the production company didn't actually have to say no to, because the budget actually stood in the way of making the experiment a reality.
Mythbusters lasted for so long largely because it could be produced on a budget-friendly scale. In fact, at one point, the show fired more than half its cast, thus saving the show a ton of money. It's easy to see how the budget could get in the way of interesting ideas on occasion.
So, when danger and budget constraints weren't a problem, what else could stop a myth from getting busted? Sometimes, simply editing out ideas was the culprit.
These aren't the only instances of Mythbusters editing down content. A few months ago other Mythbusters lead Jamie Hyneman revealed there was another experiment involving a baseball player and a train—yes a train—that Discovery wasn't so keen on. I'm sure over time there were quite a few other segments that were bandied about that never made it to the air. All in all, though, we got to see a lot of really cool stuff make it to the small screen.
You can check out more from Adam Savage's Mythbusters Reddit AMA, here.
Your Daily Blend of Entertainment News
Reality TV fan with a pinch of Disney fairy dust thrown in. Theme park junkie. If you've created a rom-com I've probably watched it.
Your Daily Blend of Entertainment News
Thank you for signing up to CinemaBlend. You will receive a verification email shortly.
There was a problem. Please refresh the page and try again.