Why It Was Time For Mythbusters To End, According To Adam Savage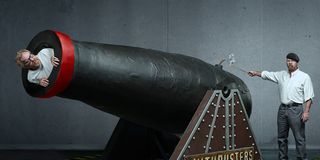 Yesterday, the Discovery Channel made the firm and resolute decision to cancel its longest- running series, Mythbusters. The decision was doubtlessly tough for the network to make and hard for fans to swallow, but now series lead Adam Savage has explained why the upcoming season will be a good time to wrap the series up. Here's what he had to say:
As we noted in our original article regarding the Mythbusters cancellation, ratings were becoming a big issue for the series. When the show was still doing well, a high-rated episode could see a few million total viewers tuning in. The Obama episode from 5 years ago, for instance, saw more than 2 million viewers catch the episode. But in more recent years, those numbers have dwindled. Plus, the show hasn't exactly had the same dynamic since Discovery opted to give Kari Byron, Tory Belleci and Grant Imahara their walking papers back in 2014.
Regardless, while Savage's comments to EW do note that ratings were a factor, he also says he expected the show to go out with a whimper rather than a bang. Instead, Discovery is giving the show the time and the opportunity to film a final season, which will hit the schedule in January of 2016. It may not seem like a final season is all that special, but giving the team time to wrap up any myths they've always wanted to tackle and to give their fans a fond farewell is a huge deal, and it's nice of Discovery to give its veteran (and probably flagship series) a big goodbye. And Savage also says the show is going out on a high note, although quite possibly he also means a literal bang.
While we won't get the final round of Mythbusters episodes for another couple of months, reruns of the show will actually be shifting to the Science Channel, which already has a giant marathon of the series planned. More than a decade's worth of episodes will air in chronological order between December 23 and January 3. Then, the final season will begin airing on Discovery on January 9.
It's unfortunate that the original Mythbusters was cancelled. However, if you are looking to add the series to your dvd or blu-ray collection, you can check that out here (opens in new tab).
Your Daily Blend of Entertainment News
Reality TV fan with a pinch of Disney fairy dust thrown in. Theme park junkie. If you've created a rom-com I've probably watched it.
Your Daily Blend of Entertainment News
Thank you for signing up to CinemaBlend. You will receive a verification email shortly.
There was a problem. Please refresh the page and try again.