35 Amazon Prime TV Offerings For Binge Watching Over The Holidays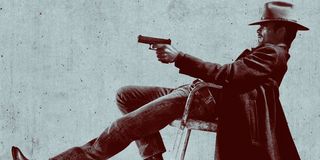 Stop me when this hits too close to home. It's winter. You don't particularly want to go outside because it's cold. Unfortunately, staying home isn't particularly exciting because an overwhelming majority of television is on hiatus. So, you're stuck between Monopoly and freezing your damn toes off, right? Wrong. Thanks to some generous streaming and On Demand options, there's more than enough to fill your Christmas-y plate.
On Monday, we outlined all the greatness Netflix currently has instantly streaming. Today, it's Amazon Prime's turn. The service might not be as well-discussed or quite as extensive as Netflix, but there are still an incredible number of worthwhile options to spend your next few weeks on. For example: The Good Wife and Glee and Grey's Anatomy and other things that don't start with a G.
If you're lost and looking for some recommendations, fear not. Here are thirty-five shows you can watch right now, at least provided you have Amazon Prime.
(1) The Good Wife
The Good Wife is a legal procedural that follows the wife of a high profile politician who returns to her legal practice after her husband is caught in a scandal involving prostitutes. Most weeks follow one specific legal case from its origin to its conclusion with a small amount of overarching personal life drama carrying over each week. It's one of best dramas on network television today.
(2) Parenthood: The NBC drama involves an extended family and the various problems they encounter going through life and interacting with one another. It offers laughs, moments of thoughtful insight and at least one plotline a week that will make you want to vomit. The problem these characters encounter are so far in the gray area and hit so close to home that they'll likely cause you to get physically ill.
(3) Grey's Anatomy: Say what you will about Grey's Anatomy lately, but the ABC hospital drama started off with a bang and was one of the best shows on television for its first few seasons. They're more than worth watching through for the first time or even revisiting again.
Looking to check out some more network shows? Try (4) Grimm, (5) Under The Dome, (6) Glee or (7) Parks And Recreation.
(8) Sherlock
Sherlock, not to be confused with Elementary, is a British adaptation of the Sherlock Holmes books. The show produces three episodes roughly every year and a half. They're awesome and yet insanely frustrating because there's not more of them. Plow through but don't do it so quickly you run out of episodes within one weekend.
(9) Downton Abbey: The British import might not boast the fastest pace or the most action, but it does offer some of the best writing on television. With roughly a half dozen plots running at any given time and a fascinating take on class politics, it's weirdly enthralling in its own way.
(10): The Tudors: Henry VIII may have been a whole lot bigger and more slovenly in real life, but the basic outline of his time on the throne is more than fascinating enough to carry a series as Showtime found out with The Tudors. As you can imagine, much of the action involves Henry's interactions with women, but Superman fans will no doubt enjoy watching a younger Henry Cavill prove his acting chops.
Looking for some more eccentric, yet engrossing programs? Try (11) Friday Night Lights, (12) Mr. Selfridge, (13) Dr. Who, (14) Vikings, (15) Battlestar Galactica, (16) Lost
(17) Intervention
Few American reality shows have ever been as gripping as Intervention. The weekly documentary follows two addicts in battles for their lives. At first, their day-to-day habits are followed and later, their loved ones confront them with pleas to seek treatment. Typically, they go, but as for whether or not they succeed at rehab, it completely depends on the episode. Regardless, no punches are ever pulled.
(18) Duck Dynasty: The extended family Duck Dynasty depicts might be a little rough around the edges, but they're actually very intelligent. Beyond that, their strange brand of family values is extremely endearing. It takes a few episodes to get on board and get the rhythms, but after awhile, it's really quite addicting.
(19) American Pickers: A mix of Antique's Road Show, Pawn Stars and Storage Wars, American Pickers unleashes two seasoned dealhunters into the world and lets them pick through old priorities, basements and attics in order to find great deals. There's also mildly amusing banter and a ton of great backstories about the pieces.
Feel like watching some more reality? Check out (20) Chopped, (21) America's Book Of Secrets, (22) America: The Story Of Us, (23) House Hunters and (24) No Reservations.
(25) Justified
Justified is the best show on television you're probably not watching. It follows a US Marshall working in Kentucky who is quick to break the rules and quick to fire his service weapon. The line between villain and hero is constantly blurred, and the acting is utterly brilliant.
(26) Suits: A legal drama with a crazy amount of backstabbings and shenanigans, the lead character never actually graduated from law school and practices illegally. This gives both him and the partners a whole lot to lose and a mess of secrets they can use against one another.
(27): Key And Peele: A hysterical sketch comedy with an edginess to it, Key And Peele has slowly been getting better and better over the past few seasons. If it continues to develop, it could well turn into one of the most biting and cleverest shows on all of television.
To check out more of the best of the rest, look for (28) Vikings, (29) Sons Of Anarchy, (30) Workaholics, (31) The Legend OF Korra, (32) Chapelle's Show, (33) Star Trek: The Original Series, (34) The West Wing, (35) Sabrina: The Teenage Witch.
Enthusiastic about Clue, case-of-the-week mysteries, the NBA and cookies at Disney World. Less enthusiastic about the pricing structure of cable, loud noises and Tuesdays.
Your Daily Blend of Entertainment News
Thank you for signing up to CinemaBlend. You will receive a verification email shortly.
There was a problem. Please refresh the page and try again.