5 TV Reminders Of Why Joan Rivers Was The Best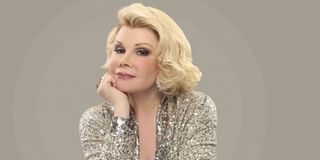 Joan Rivers has been a comedic voice on the Hollywood block for decades. Eventually, she transformed herself from a late night comic into one of the most well-known fashion critics of the modern era. On August 28, she was taken to the hospital for a surgery on her vocal cords and ended up in a medically-induced coma. She died Thursday, leaving behind a legacy of rich and often blunt jokes from decades of TV appearances. We've compiled a few clips to show off her rich legacy of jokes, from appearances with Johnny Carson to her own solo work, and finally the stuff she spurted out as the loudest of The Fashion Police.
Love her or hate her, Joan Rivers has certainly had a storied career. She was the first woman with her own late night talk show. She was, along with David Letterman, Don Rickles and Jay Leno, one of the most famous guests in the history of The Tonight Show. She was one of the last great true originals who wasn't scared of backlash or negativity. All she cared about was making people laugh, and the five clips, below are a brief history of some of the places she popped up over the years. Watch them and laugh with her one more time.
Joan Does The Ed Sullivan Show, 1967
Rivers was a guest star on many variety and talk programs for years before she got her first big break. In the clip above, she's doing stand-up on The Ed Sullivan Show, which had her on a number of times. What I like about the clip is that it sort of shows a career coming full circle. In the video, she's a young woman discussing the fashion of the time. Recently, she was a much older woman doing the very same. There's symmetry in that, and something a little sad, too.
Joan Does The Tonight Show, 1986
Rivers was a mainstay on The Tonight Show with Johnny Carson for a number of years. She often was on as a guest or a guest host on the series, although she's practically the only comedian who never did stand up during her apperances. In the clip above, she's telling a now-dated joke about Christie Brinkley, but it's beautiful because she's cracking up like an SNL star caught in the spotlight in a bad moment. There's abrasiveness in her TV personality, but honesty too.
Joan Does Her Own Show With Siskel And Ebert, 1986
In the late eighties, Rivers was able to get away from being a guest host on The Tonight Show and briefly took up a stint as the host of her own show. Here, she interviews Roger Ebert and Gene Siskel about their movie tastes at the time. Dating this clip are $5.50 movies, Cannonball Run and a Lysol gag from a movie that came out years before Michael Constantine became obsessed with Windex in My Big Fat Greek Wedding.
Joan Does The View, 2012
By the 2000s, Rivers had transformed herself from a brazen comedian to a loud comedian with plenty of opinions on pop culture and fashion. She appeared in shows as varied as Hollywood Squares and The View to talk about topics that interested her. In the clip above, she's discussing the fact that Costco controversially refused to stock her book. More on that, here. On a secondary note, she talks about hating when people lie in obituaries about cause of death. Luckily, that's not something Rivers will have to worry about.
Joan Does Fashion Police, 2014
Here's Rivers in her greatest element, taking pot shots at pop singer Justin Bieber. Speaking about Bieber, she says, "Going to sound just like Chris Martin talking to his divorce lawyer about Gwyneth—that little bitch just gets on my nerves." This is the Rivers known to an entire generation. A Rivers who spoke out and said exactly what she felt at any given moment. Not everyone may miss her bold presence on Fashion Police in the years going forward, but it's certainly true that Rivers is leaving the world a less colorful place.
Amazing Race & Top Chef superfan with a pinch of Disney fairy dust thrown in. If you've created a rom-com I've probably watched it.
Your Daily Blend of Entertainment News
Thank you for signing up to CinemaBlend. You will receive a verification email shortly.
There was a problem. Please refresh the page and try again.