50 Cent, Holly Madison, Nick Cannon And Others Featured In New E! Specials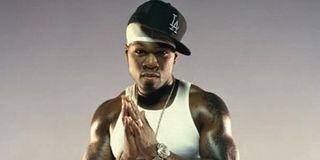 In addition to the new series announced today by E!, the network has a bunch of new specials set to air in the coming months. Some of the specials will feature inside looks at the lives of stars like The Girls Next Door's Holly Madison, rapper 50 cent, and Dancing With the Stars' Brooke Burke. Also on the slate are specials looking at the money spent on Hollywood babies, secret Hollywood societies, and one really sweet special in which Nick Cannon will renovate his grandparents' house.
First up, and airing in just a few weeks on May 2nd at 10 p.m. EST, is Blinging Up Baby, a one-hour special that looks at the world of celebrity moms and their babies. Included are a look at some fancy nurseries, as well as the extravagant gifts showered on new Hollywood moms and babies.
Other specials will focus on individual celebrities. Nick Cannon's Big Surprise will be a blast from the past on May 9th at 10 p.m. EST, and will follow a visit to Cannon's grandparents' home. While the makeover will be a big part of the special, it will also give viewers a look at Cannon's early years. Next, Holly Has a Baby will give fans of the former Playmate a chance to see how her life has changed since giving birth to the baby girl she named Rainbow. The network is also hinting that we might get some nuptial news about Holly and her baby daddy. This special airs on Mother's Day, May 12th at 9 p.m. EST.
The Untold Story: Jason Derulo airs on May 14th at 10 p.m. EST and is a half-hour special that will go behind the scenes with the singer as he gets back on his feet after a life-threatening neck injury. A companion special to the new series The Wanted Life, called Ryan Seacrest with The Wanted: An E! Special!, will air on May 27th at 10:30 p.m. EST and will feature Seacrest sitting down with the band for a no-holds-barred one-hour special.
Next up is Bigger, Badder Celebrity Feuds, a show for those who just can't get enough Hollywood gossip. Among the feuds the special will dig in to are Chris Brown and Frank Ocean, Kelsey Grammar and his wife Camille, and Halle Berry's boyfriend troubles. This one airs May 28th at 10 p.m. EST.
A few more series are planned that don't have an official premiere date or time, yet. E! Special: Brooke Burke brings in Guiliana Rancic to interview Burke from her home in Los Angeles. The one-hour special will feature Burke talking about her home life and her career, including Dancing With the Stars. Definitely one for big Brooke Burke fans, this one will air in June. Scheduled for some time in late summer is Secret Societies of Hollywood, a two-hour special that will dig into Hollywood's secret clubs--and these aren't nightclubs. The special promises to look at cults, cabals, and societies few outside of the wealthy circles have ever seen.
Finally, there are two more specials set for fall airdates. 50 Hours With 50 Cent will give one fan the chance of a lifetime to go behind the scenes and spend time with the rapper – 50 hours to be precise – as he gears up for the release of his new album. Inner Circle will showcase celebrities hanging out with one of their close friends or members of their "inner circle", chosen by the celebrity. In this special, the two will chat about life, and the friend will get to ask all the questions.
Your Daily Blend of Entertainment News
Thank you for signing up to CinemaBlend. You will receive a verification email shortly.
There was a problem. Please refresh the page and try again.