9 Popular Television Shows That Have Gone Off The Rails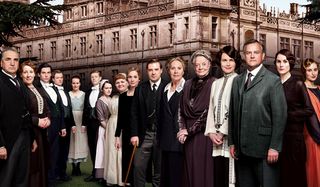 Every season, a few TV shows hit their stride, a few others crumble, even more get canceled and a couple will make miraculous comebacks. It's the TV cycle of life. Sometimes good things end up sucking, sometimes shows are canceled during their prime. Nothing lasts forever. However, this TV season, we've noticed an unusually high number of TV shows that are continuing to eke it out way past their prime.
We've compiled a list of the current TV shows that we feel have jumped the track. They've been on the air for too long or maybe their characters have started to make nonsensical decisions. Perhaps the writing staff on the show has been cut due to budget restraints, or members of the creative team have left for other projects. Whatever the reason, these are the nine shows on TV that have officially gone off the rails. Let's just be happy Dexter ended last spring, shall we?
Bones, Fox
Bones is currently airing its 10th season on Fox. Although the show's fans love its gross-out plotlines and quirky characters, it's time to admit the writing on this show has been off the rails for several seasons now. I'd say it happened around the time Christopher Pelant started terrorizing the crew. Regardless, there have been a lot of awful, nonsense plotlines on the show over the past couple of years, including but not limited to Angela and Hodgins losing their money, an episode getting told from the perspective of a skull and Bones coming face-to-face with her dead mother. It's time for Fox to break-up with Bones.
Revenge, ABC
It's clear that Revenge has had some problems over the last couple of seasons, which is really striking, since ABC's drama has only been a part of the lineup for four seasons. To be fair, Revenge's soapy premise was always a little bit wacky, but the show has killed off so many characters at this point and gone down so many random paths that it is more confusing than a daytime soap at this point, just better acted. And now, instead of Emily Thorne's revenge, we are getting to see Victoria Greyson's revenge. What's next? I'm guessing more characters will bite the dust and others will return from the dead!
Parenthood, NBC
For as long as it has aired on NBC, Parenthood has made fans cringe as much as it has made fans cry. However, after an awesome storyline involving character Kristina and breast cancer two seasons ago, Parenthood has run out of steam. Parenthood's always been dramatic, but now it is wacky and dramatic. Kristina somehow opened a school for special needs kids. Adam and Crosby are having money problems for like the billionth time. Joel is sometimes the family man we know him to be and sometimes switches personalities to be a total dick. We get it, Parenthood, life is complicated, but that doesn't mean your show needs to be nonsensical.
Homeland, Showtime
The only non-network show to make this list, Homeland is actually attempting to rise from the ashes of the absolute wild storylines it put out during its second and third seasons. Homeland was a critical darling during its first season, but took a turn for the worse when it extended character Brody's stay into Season 2. Now that Brody is past tense, Homeland has already been renewed for Season 5, so we'll see if the show levels off or continues to head into crazier and crazier territory.
Once Upon A Time, ABC
If we're being honest, most of ABC's Sunday night lineup is off the rails. Once Upon A Time, like Revenge, never made a comeback after introducing magic at the end of Season 1. Now the world of Once Upon A Time is as convoluted as Lost, as showrunners Edward Kitsis and Anthony Horowitz have resorted to using Disney's Frozen characters to boost ratings. We're even talking CGI'd snow monsters. Off. The. Rails.
Grey's Anatomy, ABC
Grey's Anatomy has been off the rails for so long, it is hard to pinpoint when this show lost its mojo. Was it when Dr. Burke was kicked off the series? Or was it later, at the end of Season 8, when Lexi was killed off in a horrific plane crash? Although Grey's has no end date in sight, it will definitely go out with a whimper rather than a bang.
Chicago Fire, NBC
The youngest show on this list, Chicago Fire has an extremely likeable cast. However, it has been plagued with criticism due to the fact that the actual fires and emergencies on Chicago Fire aren't remotely realistic. In many ways, it's not so different from most cop shows, which amp up the drama to gain more interest, but with fires and safety situations, ludicrous plots are way more noticeable. The Dick Wolfe drama has been off the rails from the start, but on the bright side, its audience doesn't seem to mind.
Downton Abbey, PBS
Problematically, Downton Abbey's biggest problems stem from cast members leaving. The hit ITV drama was absolutely crushing in the ratings during Season 3. Granted, that season had some misses, including every scene involving Bates and jail. Still, we're pretty sure what killed this show's credibility was the loss of Jessica Brown Findlay, Dan Stevens and Siobhan Finneran in three fell swoops. Since then, nothing has been the same.
Two And A Half Men, CBS
Two and a Half Men is a network sitcom that has been notable for poor-taste jokes and its on set problems in the past. Despite this, the show is now in its twelfth season at CBS and has finally put together the most ludicrous plotline of all. In Season 12, Alan and Walden pretend to be gay so that they can adopt a child together. Don't even get me started on the loss of the "Half" man in the title. Thank god, it's the final season.
Honorable mentions go to: Banshee (Alan Ball has a knack for melodrama), House of Cards (Are you tired of breaking the fourth wall, yet, Frank Underwood?), Person of Interest (don't even get us started on "The Machine").
Are there any shows you would like to defend or think we may have missed? Let us know in the comments, below.
Reality TV fan with a pinch of Disney fairy dust thrown in. Theme park junkie. If you've created a rom-com I've probably watched it.
Your Daily Blend of Entertainment News
Thank you for signing up to CinemaBlend. You will receive a verification email shortly.
There was a problem. Please refresh the page and try again.