ABC's Ad Rates For Katie Couric's New Talk Show Prove A Little Pricey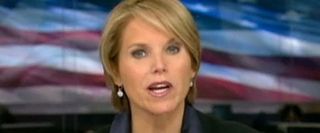 I'm not certain if Katie Couric, her executive producers Jeff Zucker, or Disney-ABC has the biggest ego, but collectively those three are asking a lot from investors. This week, the Couric, Zucker, and ABC have gone around selling ad spots, and the numbers are relatively high for an as yet unproven program.
Couric's new show, Katie, is set to hit the airwaves next fall, and the ad rates her group is asking for say a lot about her expected level of competence. New York Post is reporting advertisers are being asked to pay $50,000 for 30 seconds of advertising, which doesn't seem to be too much at first glance. If you look at Super Bowl advertising, rates run at over 2 million for a 30 second spot. Plus, $50,000 is only half of the $100,000 Oprah asked for toward the end of her tenure.
However, it is a bit more than some of the current leading daytime talk shows. Ellen and Live With Regis And Kelly pull in between $35,000 to $40,000 dollars for advertising spots. As much as I liked Katie Couric on daytime TV, her track record in the evening hasn't been nearly as strong. Plus, it's been a long time since her daytime demographic has seen from her. Who knows if Katie will be able to pull from the same audience base as The Today Show? I'm truly excited for Katie and I hope Couric does well when she returns to day time; but, I will hasten to add the star shouldn't spit big game unless she can back it up.
Your Daily Blend of Entertainment News
Thank you for signing up to CinemaBlend. You will receive a verification email shortly.
There was a problem. Please refresh the page and try again.