Aaron Sorkin's HBO Series May Be Called Newsroom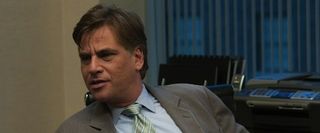 Among the more interesting projects in the development is the cable news channel drama by The West Wing's Aaron Sorkin. HBO Watch broke the news today that the series now has an official title. More as this story develops...
(Via Deadline) HBO Watch is confirming that Sorkin's new drama, which was going by the placeholder title More as This Story Develops will be called Newsroom. It's a simple title, but simple titles have worked pretty well for HBO in the past (see also: True Blood, The Sopranos, Oz, Treme, Deadwood and The Wire to name a few). (Update: According to Deadline, Newsroom "indeed is the top choice for a title but it has not been cleared, so it is not clear if it will work.") We'll have to wait and see if this official title shows up in a promo or on HBO's website sometime soon.
Sorkin's new series stars Jeff Daniels and Sam Waterson, and takes place at UBS, a fictional cable news channel and is described as being "based loosely on MSNBC's late Countdown with Kieth Olberman telecast."
?In addition to The West Wing, Sorkin's more recent credits includes co-writing the screenplay for Moneyball, and winning an Oscar for writing the screenplay for The Social Network. I know I'm not alone in hoping he's the man to take on the screenplay for the Steve Jobs biopic. Whether or not that actually happens, remains to be seen, in the meantime, it's good to see his HBO project has an official name.
HBO Watch says they hope to be able to post the official premiere date for the show soon. And while there's no video to share yet, they did manage to get ahold of a few snippets of the dialogue for us to chew on while we wait...
Your Daily Blend of Entertainment News
Thank you for signing up to CinemaBlend. You will receive a verification email shortly.
There was a problem. Please refresh the page and try again.