Agent Carter Will Feature A Key Marvel Supporting Character From The Movies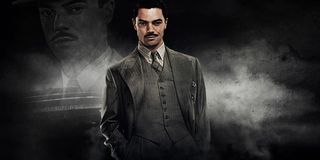 ABC's Agent Carter has been adding to its cast with swiftness over the last several weeks. On Tuesday, Marvel revealed that a Captain America: The First Avenger actor will be back to reprise his role in Agent Carter. According to the massive studio, Dominic Cooper will be taking time out of his busy schedule to pop up in Agent Carter.
In a press release this morning, Marvel notes that Cooper will return to play Howard Stark. As fans already know, Howard is Tony Stark's father, a smooth individual and inventor who often works on government projects. So far, we don't know whether the role reprisal will be a guest stint or a recurring gig. The actor is a busy guy, with movie projects Warcraft and Miss You Already coming up. Thus, fans should be happy to have him in whatever capacity the show manages to sign him on for.
Locking down Cooper is a welcome addition, but not a surprising one. Agent Carter will be set in 1946, and will follow Hayley Atwell's titular character as she adjusts to life in postwar America. She's feeling underused and without purpose while doing administrative work for the SSR (Strategic Scientific Reserve). On the side, Howard Stark will be sending her on secret missions. Stark's name has been a part of the plot summary since ABC picked up the series, but we weren't sure if the character would be a part of the new drama, at all. Then, a couple of weeks ago, Agent Carter signed on James D'Arcy to play Edwin Jarvis, Stark's butler. At that point, it seemed much more likely that we would get a Howard Stark appearance.
Cooper, Atwell and D'Arcy won't be the only big names on Agent Carter. One Tree Hill's Chad Michael Murray and Extant's Enver Gjokaj will play SSR Agent Jack Thompson and Agent Daniel Sousa, respectively. A little over a week ago, Marvel Studios also announced that Boardwalk Empire actor Shea Whigham has also joined the cast. He will play Peggy's SSR boss, Chief Roger Dooley, a "tough but fair-minded" gent. Perhaps most interestingly, Captain America franchise directors Luis D'Esposito, Joe Russo, Anthony Russo and Joe Johnston are all set to direct a first season episode of Agent Carter. Marvel is certainly throwing a ton of star power behind Agent Carter in order to give it as many tools as possible to succeed.
Case in point: Last week's Agents of S.H.I.E.L.D. premiere also featured a short appearance from Atwell's Peggy Carter, in a plotline connecting the S.H.I.E.L.D. world with the Agent Carter world. After the pilot premiere, S.H.I.E.L.D's ratings have not been quite so fantastic, and ABC and Marvel are likely looking for ways to make sure Agent Carter has a totally different trajectory.
Agent Carter is set to air on ABC at midseason. The main cast is starting to seem solidified at this point, but we will keep you posted as the network and studio adds new names.
Reality TV fan with a pinch of Disney fairy dust thrown in. Theme park junkie. If you've created a rom-com I've probably watched it.
Your Daily Blend of Entertainment News
Thank you for signing up to CinemaBlend. You will receive a verification email shortly.
There was a problem. Please refresh the page and try again.