Anthony Bourdain And Nigella Lawson To Host ABC Cooking Competition Show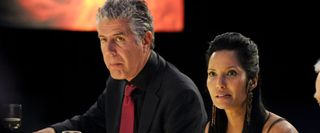 There seems to be no end to the TV cooking-competition shows. My newest favorite is probably Bravo's Around the World in Eighty Plates, which forces chefs to traverse the globe, Amazing Race style, so they can compete in cooking challenges. However, Bravo's newest program could be bumped off my radar now that Anthony Bourdain has decided to jump into the game with a cooking-competition show of his own.
Bourdain is teaming up with British food star Nigella Lawson to host a new cooking-competition program on ABC. According to Deadline, the show will be produced by Seven One International, and will feature a novice/mentor format similar to what we have seen on singing competitions such as The Voice. The new program, called The Taste, will follow four teams of cooks at various experience levels as they work with a mentor and compete with one another.
Eight episodes of the program have been ordered thus far, but if ABC is questioning Bourdain's abilities more than the format, I expect the show will get picked up for more episodes at a later date. As a host of a food program, Bourdain is easy to listen to, and with his experience judging on Top Chef, he has a lot of experience to bring to the hosting table. Even if Bourdain by himself can occasionally be a bit too much, adding Lawson as a host should prove create a good balance. TV Blend will keep you posted when The Taste gets a premiere date.
Your Daily Blend of Entertainment News