Arrow Season 4 Just Signed On Oliver's New Nemesis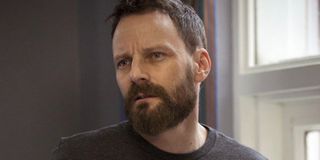 The CW's comic-book-inspired mothership show, Arrow, appears to be heading into its fourth season with an ever-growing rogues gallery. The superhero series can now add actor, Ryan Robbins to that list. A veteran of several genre fan favorites, Robbins has been tapped to portray a nemesis who retroactively torments Stephen Amell's Oliver Queen in the flashback sequences.
Robbins has signed on for what is described as a recurring role on the CW series, playing a villainous character named "Conklin." According to Variety, while his potential ties to the DC comic-book-canon remain a mystery, he is described as a being a potentially personal "adversary" for Oliver Queen in the show's flashbacks and a "ruthless member" of Shadowspire, a collective of criminals who will make their presence felt in Season 4.
In the DC comic book canon, Shadowspire is an insidious cooperative of mercenaries without scruples who deals in every conceivable reprehensible thing, from arming bellicose banana republics, selling sensitive intelligence, supporting drug cartels, and even dealing in weaponized viruses. While details regarding how this cabal of killers will take shape on Arrow remain to be seen, it is clear they will serve to occupy Oliver's time in the flashbacks. He'll also be dealing with newcomer rogues like the supremely intelligent, already-name-dropped Damien Dahrk (Neal McDonough), living deck of cards, Double Down (J.R. Bourne), and the demented popular Batman nemesis, Anarky (Alexander Calvert.)
Yet, when it comes to members of the mysterious flashback-filling TV version of Shadowspire, they may have already filled their leadership position with the recent casting acquisition of Jimmy Akingbola, who will play the theme-deviating TV universe manifestation of DC Comics' super-powered Nazi villain, Baron Blitzkrieg. Other members traditionally belonging to the group include psychic-illusionist, Kodrescu, field operative, Mourn (an identity successively adopted by two people) and the armored Steelhawk.
While the name of Ryan Robbins' character "Conklin" could reference a few obscure 1950s/1960s single-appearance DC villains like Adam Conklin and Biff Conklin, his ties to Shadowspire make him more interesting. Regardless of any possible comic adherence, what we do know is that Robbins will come to Arrow following an impressive resume of genre shows--notably a recent lengthy run on Falling Skies. He's had exceptional runs on shows like Battlestar Galactica, Caprica, Stargate: Atlantis, Sanctuary and even has a role in the upcoming Warcraft movie adaptation. Thus, he should have no problem hitting the ground running as a formidable antagonist.
The flashback sequences that will feature Conklin and his cohorts have chronicled Oliver Queen's trials and tribulations in the apparently action-packed five years that he was missing from Starling City. That all started simply enough on the mysterious South Pacific island of Lian Yu. However, they eventually sent him on serious globe-trotting missions as that segment of the show continues to inch towards the moment that Oliver resurfaces in the 2012 Arrow pilot. One must wonder, considering how close the flashbacks are getting to the present, if this rivalry with Shadowspire will have a particularly poignant connection to the growing DC TV universe.
Of course, we will definitely get that answer soon enough this fall when Arrow makes an emerald identity change, coming back for Season 4 on October 7.
Your Daily Blend of Entertainment News
Your Daily Blend of Entertainment News
Thank you for signing up to CinemaBlend. You will receive a verification email shortly.
There was a problem. Please refresh the page and try again.