Arrow: Why Damien Darhk Captured The Atom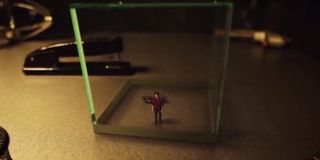 Warning: there are some spoilers for tonight's Arrow episode ahead!
When Ray Palmer, a.k.a. The Atom, was caught in an explosion in the Arrow Season 3 finale, fans knew he was going to be okay. After all, Brandon Routh was announced as one of the leads in Legends of Tomorrow, and nothing as pedestrian as being blown up is going to keep him from that gig. Still, Arrow is going through the motions of its main characters discovering that Ray is alive, and tonight's episode "Lost Souls" will see them finally finding him. Unfortunately, he's being held captive by Damien Darhk, and the Season 4 big baddie has an eye on Ray's impressive technology.
Routh recently explained how Ray's been fighting for survival over these last few months in his tiny form, and making matters worse, Damien wants to use Ray's A.T.O.M. technology for his own purposes. As the actor elaborated to EW:
After helping Team Arrow stop Ra's al Ghul in the Season 3 finale, fans last saw Ray tinkering around with his suit in his office at Palmer Technologies when he accidentally triggered an explosion. Normally that would have meant incineration, but in Ray's case, he was able to survive due to being shrunk, achieving what his comic book counterpart does on a regular basis. How Darhk got ahold of the tiny Ray afterwards is still uncertain, though he would have needed a magnifying glass just to spot him. Regardless, Darhk now has Ray held in an inescapable prison - a display case (as shown in the preview). Hey, it's not like Ray can just waltz out of there in his condition. Fortunately, in last week's episode "Haunted," Felicity discovered the message that her ex-boyfriend left behind, and now knowing he isn't dead, she's started her search for him.
Although Damien Dark is nearly two hundred years old (possibly older), he's shown that he's a man that keeps up with the times. Magic may be his weapon of choice, but he knows technology has its uses, especially when it comes to destroying Star City. Darhk also probably knows that Ray worked with The Arrow during the last year, and by finding someone close to him, he may use them to either figure out who Green Arrow is or just lure in the Emerald Archer for immediate elimination.
We'll have to wait until tonight to see how Team Arrow goes about rescuing Ray from Darhk's clutches, but don't expect the tech genius to stick around on Arrow for long. As mentioned earlier, The Atom is going to be one of the lead heroes in Legends of Tomorrow, and by then he'll likely have the shrinking under control. Funny enough, Damien Darhk will also be appearing in the spinoff at some point, so Ray may end up reuniting with him, though it won't be the Darhk from the present day.
New episodes of Arrow air Wednesdays at 8 p.m. EST on The CW.
Connoisseur of Marvel, DC, Star Wars, John Wick, MonsterVerse and Doctor Who lore. He's aware he looks like Harry Potter and Clark Kent.
Your Daily Blend of Entertainment News
Thank you for signing up to CinemaBlend. You will receive a verification email shortly.
There was a problem. Please refresh the page and try again.