BBC America To Showcase British Dramas With Dramaville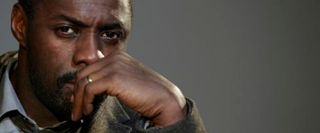 BBC AMERICA just announced that it will up their presence on this side of the Atlantic by creating a new series devoted to the promotion of the best hour-long dramas that Britain has to offer... meaning, some promising new (and returning) shows for us to start watching.
The new series (or I guess series' bookmark) is called Dramaville and will be hosted by Golden Globe nominee and all around bad-ass Idris Elba. So every week, good old Idris will intro(and outro)duce the BBC series of the evening, the first of which happens on Wednesday, August 17, 10:00 p.m. ET/PT. I guess it's kind of like Turner Classic Movies with Robert Osborne but focused on British TV dramas instead of golden age films.
Dramaville will initiate it's run by airing The Hour, a six part, conspiracy thriller set in the 1950s starring Dominic West and Ben Whishaw. After it's six episodes, Luther will step into the slot (meaning Elba will be introducing Elba... told you he was a bad-ass) to continue it's exploration of Elba's John Luther, a broken down cop battling personal demons.
Lastly, after the completion of that season of the gritty police drama, we get another gritty police drama, this time set in contemporary East London and set against the "shadow of Jack the Ripper and the infamous Kray Twins of the 1960s." I don't know what that means exactly (copycat killers?) but the show's called Whitechapel and it stars Rupert Penry-Jones and Phil Davis.
Dramaville debuts on BBC AMERICA August 17, 10:00 p.m. ET/PT with The Hour, followed by Luther on October 5 and Whitechapel November 2, 2011.
Your Daily Blend of Entertainment News
Thank you for signing up to CinemaBlend. You will receive a verification email shortly.
There was a problem. Please refresh the page and try again.