Beauty And The Beast Is Still Not Cancelled At The CW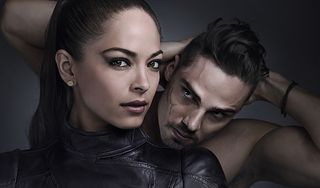 You may or may not watch the CW's Beauty and the Beast, but if you are you'll be happy to hear the latest news that it has not been cancelled. That's right! So, if you're a fan or just a flat-out hate-watcher, get ready for the return of your favorite romance drama. Season 3 picks up in May, and CW announced today that they've renewed the series for Season 4
Though many of you probably didn't even know the show exists, starting in the spring if you flip channels and land on the CW, you may happen upon it. While Season 3 of Beauty and the Beast will be returning in mid-May, dedicated watchers will also be delighted to know (believe it or not) the teen thriller has already been renewed for a fourth season, and they're planning to air it later in the 2015-2016 season.
Beauty and the Beast has had relatively soft ratings over its first two seasons but despite its problems, according to Deadline, it has done well online, hence the recent string of good news. The show is also reportedly a big international seller for the CW sister CBS TV Studios, so apparently the rest of the world hasn't lost interest in the severely different-from-the-original reboot.
For those unfamiliar, yet still interested, the romance thriller series is a re-imagining of the classic story. It follows Detective Catherine Chandler (Kristin Kreuk) who is deeply shaken when she learns much of what she knew about her life has been a lie. As Cat digs deeper into her family's past, she quickly learns important life-changing information as her bloodline's secrets come to light. This, coupled with her complicated relationship with Vincent Keller (Jay Ryan), who transforms into a horrifying beast when he becomes angry, naturally leads to all sorts of expected drama. The two do their best to deal with the broader population and stay ahead of the pursuing organization known as Muirfield.
The upcoming third season will begin with Cat and Vincent finally able to focus on their love, now that they are free from the threat of Muirfield. However, according to the show's official synopsis, their love will be tested to an entirely new level as "more dangerous threats await." Sounds serious, doesn't it? When the couple learn that innocent victims are being used as test subjects for a sinister plan, Cat and Vincent uncover a disturbing web of conspiracy that the latter can only battle in the form of his inner beast. I told you this was some serious stuff! With the beast being unleashed, Vincent and Cat's love is severely jeopardized (as one can imagine), and their normal life together becomes questionable.
Beauty and the Beast returns to the CW with its 13-episode Season 3 run Thursday, May 21 at 8 p.m. EST.
Your Daily Blend of Entertainment News