Smallville's Kristin Kreuk To Star In The CW's Beauty And The Beast Pilot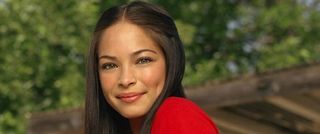 While it's looking like Emma Watson will be taking on the part of the Beauty in what may very well be the next big screen adaptation of the classic story Beauty and the Beast, The CW's reboot of the '80's small screen take on the story now has its own Beauty, and what a beauty she is. She's also no stranger to the network.
We learned last fall that The CW was looking to make a series based on '80's drama Beauty and the Beast. The project has since received a pilot order, with Jennifer Levin and Sherri Cooper attached to write. Today Deadline is reporting that Kristin Kreuk has been cast as the female lead in the drama pilot.
The updated description for the pilot has Kreuk's character Catherine described as, "a tough-minded NYPD Homicide Detective haunted by witnessing her mother's murder 9 years ago and the killers' quick demise at the hands of a Beast." Catherine manages to track down the Beast, whose name is Vincent Koslow. He's the survivor of a military experiment that went "disastrously wrong," which likely explains his physical condition (whatever that may be). Catherine apparently becomes "the protector of his secret life as a bestial superhero."
Kreuk knows a little something about getting involved with a man with superhero tendencies and a secret identity. She played Lana Lang in the popular WB/CW series Smallville.
While I certainly wouldn't argue that she fits the part of "Beauty" in this story as she's especially stunning, and her involvement in the project is likely to bring even more attention to it. That said, and at the risk of upsetting Smallville fans, I had a hard time watching Lana-scenes back in the earlier seasons when I watched the show. This may be more about how the character was written than it was Kreuk's performance, but my memory of Lana involves some very dramatic, unbearably soap opera-esque conversations. Needless to say, I didn't love the character, which may have affected my perception of Kreuk.
Then again, if Happy Endings has taught me one thing, it's that a good role can wash away the memory of an irritating character from a former beloved series. Elisha Cuthbert's Alex is slowly but surely breaking associations I have with the actress and her part as Kim Bauer in 24. Maybe the same will be the case with Kreuk and this role, should the CW decide to move forward with it. In the meantime, it's also going to be interesting to see who is cast as the Beauty in ABC's Beauty and the Beast pilot.