Better Call Saul Teaser Makes A Good Case To Lawyer Up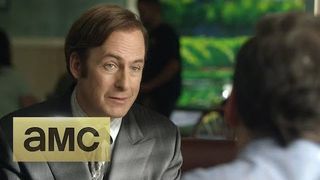 AMC has given us a great little tease of their upcoming Breaking Bad spinoff series Better Call Saul. The video may only clock in at ten seconds, but it's ten seconds of straight-up Saul Goodman, working his magic in explaining just how crucial a lawyer is when you need one.
"Lawyers. We're like health insurance. You hope you never need it, but man oh man, not having it? No."
The video doesn't reveal much, other than to give us a great visual of Bob Odenkirk returned to his shady attorney character Saul Goodman, and reminding us that this new series will not only focus on the character, but also his dealings as an attorney in the era leading up to his run-in with one Walter "Heisenberg" White.
Earlier this summer, in addition to seeing a few photos from the series, we learned that Better Call Saul would be set six years before Saul Goodman meets Walter White, and that he's going by the name Jimmy McGill at that time. Jimmy is a small-time lawyer in search of his destiny and working hard, hustling to make ends meet. Odenkirk won't be the only familiar face in the series, as Jonathan Banks is set to return to the role of Mike Erhmantraut, Saul's go-to fixer, whom we got to know pretty well in Breaking Bad.
One of the appealing aspects of Better Call Saul as a concept is the thought of getting to know who Saul was prior to meeting Walter White. Beyond that, we'll get to see the transition the character undergoes to get from Jimmy to the Saul we know and loved in Breaking Bad.
Originally, Better Call Saul was supposed to debut on AMC this fall, but it has since been delayed to 2015. The new teaser says February. The series is set to be made available streaming on Netflix after it airs on AMC. So, while there's plenty of time to wait for Better Call Saul to air, it's uplifting to see that AMC's already promoting it. The new teaser follows the Saul Goodman James M. McGill attorney billboard that was put up, advertising McGill's services. Because it's good to have a lawyer when you need one! Check out the billboard after the jump...
Your Daily Blend of Entertainment News
Thank you for signing up to CinemaBlend. You will receive a verification email shortly.
There was a problem. Please refresh the page and try again.