Big Brother 15 Spoilers: Who Won Part 1 And Part 2 Of The Last HoH Competition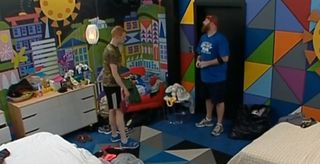 The Big Brother live feeds are winding down, with just three people in the house and so little control over navigating the game. It all comes down to the final Head of Household competition. The first two parts have both played out, and the two winners will face off Wednesday night to determine the final Head of Household, who will then immediately choose which of the other two he or she will bring to the Final 2. Part 1 should be revealed tonight, if not both parts. I think they'll save Part 2 for the planned 90-minute finale.
Live Feed Spoilers ahead!:
As we reported previously, Part 1 of the final HoH competition was a rollerskating endurance competition, and unsurprisingly, GinaMarie won. Last night, Part 2 took place. As usual, this competition was not broadcast on the feeds, so we didn't actually get to see it play out, but it sounds like it was timed and -- unsurprisingly -- Andy won it. That means, Andy and GinaMarie will face off on finale night for Part 3, and whoever wins is guaranteed a spot in the Final 2.
The second HoH comp is usually part physical, part mental. From the conversation that was had after it finished up, it was a timed comp that had Spencer and Andy looking for crabs with houseguests' faces on them. They had to climb a wall and order the houseguests by eviction. That's what it sounded like, anyway. It's always hard to really know exactly how the competition worked until we see it, but since GinaMarie couldn't compete, and it sounds like they were separated for it as Andy and Spencer took turns, they were explaining it to GM after it was over. Both agreed it was the hardest competition either of them played in to date.
With the first two parts done, all we can do now is speculate over who's taking who to the end. And it's never easy to fully predict that, as the houseguests will say a lot of things to each other in an effort to secure a spot in the Final 2 or secure the vote of whoever's the next person to leave. In other words, we usually hear a lot of BS in the house by the this point in the game. People start talking about how they can't win, or how the other person has no chance if they take so-and-so to the end. There will also surely promises to be made about taking another person to the end. There's no way to know what's legit and what's just strategy.
At this point, I'd say that Spencer has the best chance at being brought to the Final 2. He really hasn't done much in terms of power moves in the house. The only chance I think he has to in is if the jury is too bitter toward Andy and GinaMarie to vote for them to win, which is a complete possibility. But if they're voting based on game, Spencer's only solid argument is that he got to the end by allowing himself to be used by other people to further their own games. It's a floater's strategy, but there's definitely an argument to be made about playing to your strengths and for Spencer, that was putting his trust in other people and being a team player. If he can verbalize that to the houseguests, he might have a shot. The problem there is that the jury doesn't speak with the Final 2 until Finale night, which I really wish wasn't the case. I want them to go back to how they used to do, giving the Final 2 more time to speak with the jurors in a segment that's pre-taped and aired during the finale. I feel like the jurors are already mostly certain about who they want to win by the time they ask their questions, which makes the finale Q&A seem pointless.
We could assume GinaMarie and Andy both want to take Spencer to the end for the reasons mentioned above. Both made bigger game moves all season. Against each other, there's no way to predict how the jury will vote, considering both have friends and rivals on the jury. The safe thing would be to take Spencer.
As for predicting who will win in the Final HoH, there's no way to know. The last HoH comp will most likely involves questions the jurors answered, like "What did Helen say she missed least about being inside the Big Brother house, the drama or slop?" Both GinaMarie and Andy seem like they'd be good at something like that, and some of the jurors answer unpredictably, so there's no way to predict who will do better, which at least offers some suspense for the finale.
If there are any major updates to be shared between now and finale night, we'll be sure to fill you in. In the meantime, as I said, I expect the final three to resume reminiscing and occasionally bashing the evicted houseguests, which is how they've been filling their conversation over the last few days. And I expect GinaMarie and Andy both try to convince the other that they can't win in the end, so that the other will take them if they win the last HoH competition. But I'll be very surprised if either has any intention of actually taking the other.
Kelly joined CinemaBlend as a freelance TV news writer in 2006 and went on to serve as the site's TV Editor before moving over to other roles on the site. At present, she's an Assistant Managing Editor who spends much of her time brainstorming and editing feature content on the site.
Your Daily Blend of Entertainment News
Thank you for signing up to CinemaBlend. You will receive a verification email shortly.
There was a problem. Please refresh the page and try again.