Big Brother 16 Houseguests Revealed: Our First Impressions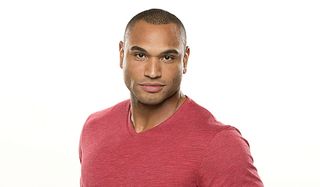 Following up a tour of the Big Brother Season 16 house and the semi-reveal of what sounds like some major twists to the format of the game, CBS has finally revealed the identities of BB16's houseguests! The good news is, they're newbies! I know people are always hopeful that there will be some or many returning favorites, and that can certainly make for interesting twists, but with a fresh crop of houseguests comes the potential for a great season and maybe some new all-star caliber players. Or at the very least, hopefully a better season than last year.
It's so hard to know what to make of the contestants based on profile information alone, but we're going to throw some first impressions out there along with the sixteen houseguests' profile information and photos! Here they are in alphabetical order by last name...
Amber Borzotra, 26
Hometown: Knoxville, Tenn.
Current City: North Hollywood, Calif.
Esthetician
Her CBS profile (opens in new tab) says Amber likes pranks, which could make for some fun shenanigans in the household. She's also expressed an interest in pretty things, which fits along the lines of her skin-focused profession of esthetician. Hard to know how her game will be, but barring any major personality flaws, I'm going to guess she'll have a good social game.
Christine Brecht, 23
Hometown: Tucson, Ariz.
Current City: Tucson, Ariz.
Barista
Christine's on the young side for this group, and professionally, she's still just starting out, making a living as a barista. From the neck up, I'd guess timid, sweet and shy, but her tattoos indicate a wild and/or artistic side. I'm ranking her high on my list of hopefully awesome contestants this season. Her survey questions (opens in new tab) indicate a decent knowledge of past seasons and an awareness of the importance of a social game. She also threw a surprise party for a homeless man in a park and got into a hot air balloon accident in high school. And she's been to Disneyland more than 50 times. I like everything about this girl... except maybe her preference for Spice Girls, but I suspect that's a generational thing so she gets a pass there.
Cody Calafiore, 23
Hometown: Hackensack, N.J.
Current City: Howell, N.J.
Sales Account Executive
Hot guy. Seriously, this guy (opens in new tab) was on Seventeen Magazine's "2014 Hot Guy Panelists." He was also a pro soccer player, which automatically makes me think he'll have a great physical game. But he was apparently cut from the team because he got hurt so maybe not? It might depend on the competition. Regardless, I'm ranking him high among houseguests most likely to have a showmance.
Nicole Franzel, 21
Hometown: Ubly, Mich.
Current City: Ubly, Mich.
Recent Nursing Graduate
At first glance, I look at Nicole and think it's Aaryn in disguise trying to sneak back into the Big Brother house for a shot at redemption. But Nicole's not from Texas and she hopefully won't be getting herself into hot water over poorly chosen words and jokes. In fact, all signs point to Nicole being geeky-sweet and charming. Or "nerdy, flirty and classy," as she puts it (opens in new tab). She's young, which could affect her social game, but she's a Dan fan, which shows she has a mind for strategy, and she's a recent nursing graduate, so she's smart.
Frankie Grande, 31
Hometown: Boca Raton, Fla.
Current City: New York, N.Y.
YouTube Personality
"YouTube Personality" doesn't really begin to cover it. Frankie Grande's YouTube Channel (opens in new tab) has close to 10 million views, and nearly 200k subscribers. As if that's not enough to give him a leg-up among "Team America," he's also the brother of singer Ariana Grande. I don't dislike him for that. In fact, his demonstrated charisma will hopefully be a major pro for this season. But with the mentioned twist involving America's participation, I'm wary of the season including someone with a likely advantage when it comes to Team America's vote. Did BB learn nothing from Elissa winning MVP every time last season? Regardless, Frankie gets points for his hair, being a Britney fan and for whatever happens when he starts to go through social networking withdrawal.
Derrick Levasseur, 30
Hometown: Providence, R.I.
Current City: Providence, R.I.
Police Sergeant
Police officer in the house! And he's from Rhode Island, which gives me a major Season 10 Michelle flashback. I'm hopeful that Derrick's a likable guy, but his comments about (opens in new tab) profiling each player and using things he learns about the houseguests against them makes me think he'll either be a Big Brother mastermind player or he'll be out within the first few weeks because people will pick up on his plans. If he lays low for a few weeks and then does what he says he's going to do, he could be good. It also looks like he's athletic and smart. If he's a nice guy, people need to watch out for Derrick.
Brittany Martinez, 29
Hometown: Long Beach, Calif.
Current City: Torrance, Calif.
Event Coordinator
I like that Brittany says (opens in new tab) she's not going into the house with much of a strategy. Too many people go in with all of these ideas in their heads of exactly how they're going to win, and they don't make it past the first couple of weeks. So we'll see how this fly-by-the-seat approach works out for her. In the meantime, she's a mother of three, which could offer her some good perspective on dealing with tension and stressful situations. And she faked labor to get out of speeding ticket, which says she's not above a good fib if it'll get her through a challenge.
Jocasta Odom, 33
Hometown: Griffin, Ga.
Current City: Lovejoy, Ga.
Minister
She wears a bow tie and she's a minister! Ok, Jocasta, you have my attention. She's also a mother, which might make her a good alliance-fit for Brittany. And she's a fan of Rachel Reilly because (opens in new tab) of her "drive and fight." That is the exact right reason to be a fan of Rachel. Say what you want about Rachel's laugh or her whining, when it came to winning, Rachel doesn't mess around. More players need to have that kind of spirit. As for Jocasta, she sounds like a genuinely good person, seeking to help empower people who are "lost, hurt, bullied, divorced and single." I'll be interested to see what kind of effect she has on the house and what kind of effect the house has on her... and assuming she becomes a shoulder for people to cry on, whether or not that puts a target on her back.
Victoria Rafaeli, 22
Hometown: Brooklyn, N.Y. and Holon, Israel
Current City: Weston, Fla
Photographer
Victoria describes herself (opens in new tab) as "exotic, bold and empowered." She may also have an interesting perspective, having lived in Israel at some point in her life. She's never watched the U.S. Big Brother, which could work against her (unless these new twists to the format of the game throw all the old game moves out the window). But she's familiar with the Israel version of the series. She's also big into Zumba and salsa dancing, so she might have a good physical game. She's on the younger side, but her profile says she ran her own photography business, so she's artistic and business savvy. It'll be interesting to get to know her better and see how she fits in among the rest of the group.
Zach Rance, 23
Hometown: Palm Beach, Fla.
Current City: Palm Beach, Fla.
Recent College Graduate
Preppy alert! He's way into golf and has Zack Morris hair. He's also seriously into money. I'm automatically skeptical about how well this guy will do in this game, especially socially if he's the braggy type. His profile says (opens in new tab) he describes himself as a "con artist" and has an economics degree, which means he's probably good with numbers. That can be a huge asset in the game, if he can make some allies early on. If he's a smooth talker, this could be his game to win. If he comes off as arrogant, however, people might want him out fast. So we're definitely in wait-and-see mode with Zach for now.
Caleb Reynolds, 26
Hometown: Dallas, Texas
Current City: Hopkinsville, Ky.
Adventure Hunting Guide
He's a hunting guide, which means he probably likes guns. That may give him something to talk about with Derrick (also a "big fan of guns"). Everything about Caleb (opens in new tab) says outdoorsy, which could make him a good physical player. He also has a military background, likes The Notebook and he uses poker metaphors to describe game play. I'm ranking Caleb high among players that could go far in this game.
Paola Shea, 27
Hometown: East Hampton, Conn.
Current City: Astoria, N.Y.
DJ
On one hand, Paola seems like she'll be the life of the party. She's a DJ, she climbed the Great Wall of China and she's a Maxim magazine girl. But on the other hand, it doesn't look like (opens in new tab) she answered the question about favorite Big Brother players, which makes me think maybe she's not a fan of the show. She also says she's impatient and has trouble dealing with people with different personalities. She might have a problem there.
Devin Shepherd, 26
Hometown: Santa Barbara, Calif.
Current City: San Antonio, Texas
Former Professional Baseball Player / Motorcycle Sales Manager
Looking at Devin, we might automatically assume he'll have a great physical game, but then again, Season 15's Howard was all muscle and he didn't perform particularly well in competitions, so maybe not. On the other hand, he's a former pro- ball player for the St. Louis Cardinals, so maybe he'll be up for the kind of competitions featured in this game. Devin says that (opens in new tab) he gets grumpy when he's hungry, which could be a problem if he's put on slop. If he has one thing working against him out of the gate, it's his size. People will see him as a physical threat. He'd be smart to use that to his advantage by forming an alliance with people who will need him to win competitions.
Donny Thompson, 42
Hometown: Albemarle, N.C.
Current City: Albemarle, N.C.
School Groundskeeper
He's a groundskeeper with a serious beard. It's not red, but is it too obvious to make a Simpsons joke here? Donny scores points with me for being over 40, considering that's a rarity in Big Brother. Interestingly enough, his profile says (opens in new tab) "he may look like a hunger, but he hates killing animals." Will that make him clash with Caleb? Regardless, unless he proves to be surprisingly good at competitions, I'm thinking a good social game and his lay-low approach will get Donny far.
Joey Van Pelt, 27
Hometown: Seattle, Wash.
Current City: Seattle, Wash.
Makeup Artist
I like the part of Joey's profile (opens in new tab) where she says she's worried about "not being able to poop because there are men in the house." I'm not sure I think her preferred Big Brother player (GinaMarie) is the best choice, but Joey gets points for a promising history that includes being her high school mascot, homecoming queen and senior class president. I'm thinking she's all about positive attitude and achievement? We'll see.
Hayden Voss, 21
Hometown: Marlborough, Mass.
Current City: Long Beach, Calif.
Pedicab Driver
It seems like more often than not, the young, carefree cool guy goes home before jury. But maybe Hayden will be the Hayden of this season, and go all the way to the end? If he wants to take notes from the winning Hayden, he should form a firm alliance early on and stick with it. Based on his survey answers (opens in new tab), he already realizes that.
Who will win? Vote in our poll after the jump!
This poll is no longer available.
Take a look at some photos from the Big Brother 16 house here!
The two-night Big Brother premiere airs Wednesday, June 25 (8:00-9:00 PM, ET/PT) and Thursday, June 26 (9:01-10:00 PM ET/PT) on the CBS.
Your Daily Blend of Entertainment News
Assistant Managing Editor
Kelly joined CinemaBlend as a freelance TV news writer in 2006 and went on to serve as the site's TV Editor before moving over to other roles on the site. At present, she's an Assistant Managing Editor who spends much of her time brainstorming and editing feature content on the site.