The Biggest Loser: No Excuses Watch - Week 8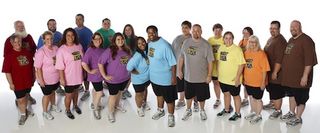 Last week, in one of the most baffling moves in the show's long history, Black Team member Daphne won a temptation challenge so that she could have the opportunity to switch up the teams. And with all that power, all she did was to bring Conda – her nemesis, who spearheaded the movement to oust Daphne's brother two episodes ago – onto her own team, while sending Conda's brother Jeremy over to the Red Team. The result? Daphne alienated pretty much everybody in the house, the Red Team won in a landslide, and Daphne was sent home (the third player this season who got on Conda's bad side to do so), where I'm sure she will be much happier. Eleven players remain.
If we are to believe what the show tells us, they have one weigh-in every single week. However, that format is going to be changed up big time this episode, as Alison announces that all the players will get to go home… for eighteen full days. Wow. I'm sure all of the contestants will love the change to see their families for the first time in two months (except Conda, who went home last week), but it will also be a test of just how well they can function for so prolonged a period of time in the same environment that contributed to their obesity in the first place. That's rather like taking your final exam halfway through the semester, isn't it?
Furthermore, Alison tells them that every single one of them had a chance to win immunity (even if their team lost the overall weigh-in), and all they had to do was lose 5% of their current weight while at home. Which is a daunting task, but very doable. If it can be done in one week, it can surely be done in 2 ½ weeks. And if every person achieved that goal, no one would be eliminated.
You can take it as read that all of the contestants were welcomed back with gasps of surprise and delight. At this point in the season, all of the remaining women have lost at least forty pounds, and all of the remaining men have lost at least sixty. That makes a big difference. I'll skip all the tearful reunion stuff, which is much better to watch than to read about, and go right to the part where each of the contestants was presented with a DVD by a family member.
On the DVD was Alison, who informed them that there would be a challenge very soon. In this challenge, which would be a simultaneous shotgun start across the country, all of the contestants would go at it on a rowing machine, and the first player to row ten kilometers (10,000 meters) would cop $10,000 in pocket money. And what was awesome about this challenge was that the contestants had basically enough time to get into their TBL gym clothes before the challenge started, right there in all of their living rooms, in front of the friends and family that welcomed them home. The winner was not announced until the weigh-in (dammit).
Two things stood out to me about this whole episode: first off, it surprised me that Bob and Dolvett made no appearance in the first hour, which is significant because it meant that the contestants were well and truly on their own for the full eighteen days; and secondly, this trip home could not have come at a better time, and I am ecstatic to report that this episode had zero of the insane, soul-crushing drama that has typefied this season up until now. It was so welcome, I can't even begin to tell you. This was easily the best episode of the season, and the best way to cap it off would be to have some really huge numbers on the scale… but I'm getting ahead of myself, aren't I?
All of the contestants seemed to grow emotionally, and though no one contestant's journey this week stood out over any others, it was nice to see. Even Kim and Conda, who have made this season nearly unpalatable, were introspective and sweet. I pray to God above that they won't readopt their old personas when they set foot back on the Ranch.
One thing was for sure: Bob was going to be out for blood during the Black Team's last-chance workout. After a disastrous last weigh-in coupled with not being able to see them for eighteen days, you just knew the Black Team was going to pay. And if there is one thing that Gentle Bob is good at, it's letting Evil Bob out at exactly the right times.
Remember, any team that lost 5% of his or her weight would win immunity, regardless of which team ended up winning the overall weigh-in. (Speaking of which, it was a little bizarre to see Dolvett wearing a sweater right out of Mr. Rogers' wardrobe, wasn't it?) Chism was announced as the winner of the challenge, which was awesome. And here's how the weigh-in went:
Red Team (Dolvett)
Buddy - lost 23 pounds (-109 total), -7.26%, now stands at 294.
Jeremy - lost 20 pounds (-100 total), -6.47%, now stands at 289.
Kimmy - lost 10 pounds (-50 total), -5.59%, now stands at 169.
Mark - lost 11 pounds (-76 total), -4.87%, now stands at 215.
Kim - lost 7 pounds (-66 total), -3.63%, now stands at 186.
Total - 71 pounds lost (-5.80%).
Black Team (Bob)
Emily - lost 17 pounds (-65 total), -7.87%, now stands at 199.
Cassandra - lost 13 pounds (-64 total), -6.91%, now stands at 175.
Conda - lost 15 pounds (14 net) (-63 total), -5.71%, now stands at 231.
Christine - lost 11 pounds (-55 total), -5.61%, now stands at 185.
Megan - lost 12 pounds (-54 total), -5.53%, now stands at 205.
Chism - lost 11 pounds (-79 total), -3.75%, now stands at 272.
Total - 78 pounds lost (-5.76%).
Holy crap. From one of the most lopsided weigh-ins of all time last week to the closest of all time this week. And just to clarify: Conda gained a pound last week, but when you gain weight on this show, your weight the following week is listed as the weight you had before you gained. What this means is, if Conda had put up a zero last week instead of gaining a pound, the fifteen pounds she lost this week would have been enough for the Black Team to win, but because of this, the Red Team took home the narrowest victory in the show's history.
Kudos. Wow, where to begin. To Buddy and Jeremy, for simultaneously reaching the milestones of 100 pounds lost and dropping below 300 pounds; to Emily, for dropping a titanic 17 pounds and dropping below 200 in the process; and to Kim, Mark and Kimmy, who each lowered their BMI (Body Mass Index) below 30.0, which means that they are out of the "obese" class and into "overweight". What a great week.
Elimination. Sadly, there was no need for a vote. Everyone on the Black Team won immunity this week except for Chism, and he was sent home as a result. Mark begged and pleaded with the powers that be to let him stay and for them to send him home in his stead, but in a truly moving, tearful, cathartic moment, Chism refused to let that happen. Every single person in the house, from Alison to the trainers to the contestants, gave him a big hug on the way out. It kinda sucks, but those are the breaks. At least he gets to go home with ten grand in his pocket. And now that he's gone, the Black Team is entirely female.
Standings. With Kim's lackluster week, Buddy was able to zoom into first place with now 27.05% lost. Cassandra is a close second at 26.78%, and Kim is now staring up with 26.19% lost, just a hair ahead of Mark who is at 26.12%. I have to believe, now that both Kim and Mark are out of the "obese" category, that catching Buddy is going to be a near impossibility for them. Jeremy rounds out the top five with 25.71% lost. One final stat: all of the remaining players have now dropped at least 20%, which is terrific.
Next week: two major twists. Firstly, Bob and Dolvett switch teams. And secondly… well, I can't tell you that, because I don't know. Come back in seven days and find out.
Your Daily Blend of Entertainment News