Bones Is Pretending To Kill Off One Of Its Major Characters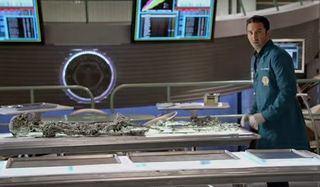 Bones is gearing up to kick off it's eleventh season. If you've been keeping tabs at all on where Seeley Booth and Temperance Brennan will be when the series kicks off, you may already know there will be a time jump between the spring finale and fall premiere of the series. In addition, we've also known that Booth would be missing when the drama kicks off. To really amp things up, Fox's long-running procedural would have us believe Booth is dead. As in really, really dead.
In the premiere episode, the team at the Jeffersonian and Booth's FBI buddy James Aubrey figure out that Booth is missing. The Fox series has been pretty mysterious about why Booth will be MIA, but showrunner Michael Petersen did say it was for a "family reason" and "very personal reason" a couple of months ago. But the show likes to get a little theatric, and of course can't just stick with a missing plotline. That would be too easy. There must be a twist, and this time the twist is that Bones is going to attempt to convince the entire Jeffersonian team that Booth is dead. Except Brennan isn't buying it, and neither are we.
Go ahead and watch the trailer for yourself and let us know what you think.
First and foremost, we already know that David Boreanaz had to take a little time off from shooting after suffering a bad reaction to an antibiotic. However, he made a statement a month ago noting Bones is super important to him and he is happy to be back on the set (read: he's definitely not dead). I suppose he could be doing some flashback scenes, but I have a hard time believing the show would cut off the Booth/Brennan storyline in such an abrupt way. We also know that Kim Raver is joining Bones for a guest stint to help look for Seeley Booth during the first two episodes of the season. Such a striking guest star also lends itself to a more high-octane plotline than a dead body, but we'll have to wait and see.
Then, of course, there's the fact that Brennan herself doesn't seem to think Booth is dead during the promo, which makes the whole plot seem even more ridiculous. Still, for a show that has started dealing with spiritualism and airing episodes from the perspective of a dead skull, maybe it's not so ridiculous, after all.
Bones earned a somewhat surprising Season 11 renewal order last spring, and the plot will kick off with Bones and Booth still away from their former life at the Jeffersonian/FBI, so it definitely needed a plot to jumpstart a return to the show fans know. It just looks like that plot is pretending Booth is dead.
The show will be returning to our TV's next week, kicking off on Thursday, October 1 at 8 p.m. ET. Sleepy Hollow will be its primetime partner, and later in the season, Fox even has a crossover event planned for both shows. You can find out when the rest of your fall favorites are returning with our fall TV premiere schedule.
Reality TV fan with a pinch of Disney fairy dust thrown in. Theme park junkie. If you've created a rom-com I've probably watched it.
Your Daily Blend of Entertainment News
Thank you for signing up to CinemaBlend. You will receive a verification email shortly.
There was a problem. Please refresh the page and try again.