David Boreanaz Is Back On Bones, Get The Details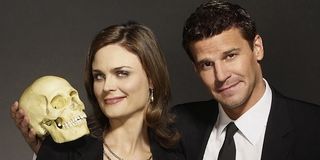 On Fox's gory police procedural Bones, star David Boreanaz's character, FBI badass Seeley Booth, has had his share of health scares (including a brain tumor that made him see Stewie from Family Guy), but the actor recently had one of his own that kept him off of set for the upcoming season 11. But don't worry, all you Bones fans and well wishers can breathe a little easier today, as Boreanaz is back and things are moving forward. They even managed to work his absence into the plot.
TV Line learned that Boreanaz suffered some health issues earlier in the summer when he had a negative reaction to taking an antibiotic. Dealing with this and recovering kept the former Angel and Buffy the Vampire Slayer star off of the set, delaying his return, which is finally set to take place today, August 25. Yesterday Boreanaz said:
His absence has been something of a mystery for fans, but now we have answers, and everyone is glad that he's back on his feet and ready to work. In order to account for his absence, the producers devised a story arc in the upcoming season in which Booth goes missing. Given all of the enemies he's made over the years, and the various things he and his partner/wife Dr. Temperance "Bones" Brennan (Emily Deschanel) have dealt with, this is far from the most outlandish thing that has ever happened. Right out of the gate for Boreanaz is going to be filming scenes to be placed in the episodes he missed out on due to his illness.
Given the way Bones season 10 ended, we're curious to see how this plays out. With an uncertain future, the episode was written so it could have served as a series finale, though Fox did ultimately order a season 11. After dealing with the protégé of their dead nemesis Christopher Pelant, Booth and Brennan decide to walk away from their lives at the Jeffersonian Institute and the FBI and move on to a new chapter. It'll be interesting to see where this new road takes them, and how the writers and producers will bring Booth and Brennan back into the fold. Though, with Booth going missing, it's easy enough to imagine a scenario where Bones turns to her former colleagues at the Jeffersonian for their expert assistance in such matters.
Bones season 11 is currently filming and debuts on Fox on October 1.
Your Daily Blend of Entertainment News
Thank you for signing up to CinemaBlend. You will receive a verification email shortly.
There was a problem. Please refresh the page and try again.