Bridesmaids' Annie Mumolo Joins ABC Pilot Middle Age Rage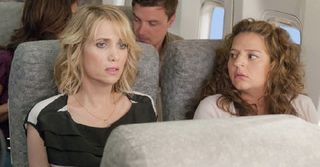 ABC's comedy pilot Middle Age Rage has found the source of the rage. Bridesmaids writer and actor Annie Mumolo has been cast in the lead role for the pilot as a middle-aged woman who finds her voice – and it turns out it's an angry one.
Middle Age Rage focuses on Carol (Mumolo), a wife and mother who realizes one day that she is tired of being taken for granted, ignored, and walked all over, and starts speaking her mind. It's a concept that has potential but needs more of a hook and possibly a new name; I'm having a hard time getting behind the rhyming gimmick, and it makes the lead character sounds like something of a lunatic. Deadline says the pilot is being written by Cheryl Holliday who recently wrote for Malibu Country, another show about a mother who stands up for herself and makes changes to her life.
Mumolo is better known for her writing career than for acting thanks to her Oscar nod for co-writing Bridesmaids with Kristin Wiig (although she did appear in the movie). As an actress she has recently appeared in the films This Is 40 and Afternoon Delight, which recently premiered at Sundance. Her TV credits have been mostly voice roles; she has provided voice talent for a number of children's series' including Handy Manny and The Looney Tunes Show. This would be her first starring role on TV should it go to series; really her first notable non-voice TV role of any kind.
We'll be waiting to see who gets cast opposite her as the husband who becomes the focus of her newly found rage.
Your Daily Blend of Entertainment News