Busy Philipps Checks Out Of ER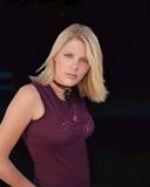 County General's perkiest intern will be turning in her stethoscope in the second episode of the hospital drama's upcoming 14th season. TvGuide.com is reporting that Hope Bobeck, the character played by former Dawson's Creek star Busy Philipps, will be departing to fulfill a Christian mission in South America. But fans of Philips won't be missing her on the small screen for long. According to TvGuide.com's Michael Ausiello, the actress will be putting in a sexy guest appearance on the Oct. 15 episode of CBS's How I Met Your Mother.
Hope's departure will help make some room for the gaggle of returning cast members that are planning visits to ER this season. Spoiler AlertOriginal cast member Noah Wyle will return for several episode when Dr. John Carter comes home from Africa to check on his foundation's HIV treatment center and seek medical help for a relative. Despite leaving for Croatia at the end of last season, Goran Visnjic will return as Dr. Luka Kovac for a good chunk of the season, and Shane West's Dr. Ray Barnett will stop by to seek closure with Neela after the shocking accident cost him both his legs. Carrie Weaver (Laura Innes) will visit, too. The shows' producers have also publicized their desire to land Julianna Margulies, William H. Macy, Gloria Reuben, Sally Fields and Danny Glover for special appearances.
In case you scanned that list a couple of times hoping to find George Clooney's name, you're out of luck. If you want to see him on ER again, you're going to have to settle for renting the early season DVDs.
Your Daily Blend of Entertainment News