The CW Orders Survivor-Like Reality Show The Hunt And A Dating Game Show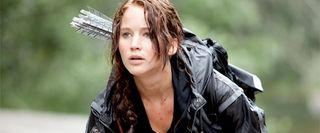 Since the success of The Hunger Games (both the book and the movie that followed), it seems like the CW has been on the lookout for shows that involve young adults in survival situations. But so far, most of the projects have been of the scripted variety. Today the CW announced that they've ordered two new reality series, one of which is described as an "intense wilderness competition."
Executive produced by Ready for Love's David Garfinkle, Jay Renfroe and Greg Goldman, The Hunt is a competition series that will take place over a month and feature 12 teams of two who "are provided no food, water, or shelter, but must compete in a game where they'll rely on their physicality, survival skills, and hunting skills to endure their conditions, capture one another, and ultimately win a huge cash prize."
It actually sounds a bit like Survivor with a non-lethal Hunger Games twist when you factor in the capturing part. I'm going to assume that the CW will resume the tradition of targeting the younger demo by featuring mostly (if not entirely) younger contestants. Their announcement doesn't specify ages, however, nor does it mention a premiere date.
Given the number of survival-focused projects The CW has had its eye on this year (The Hundred, Sick, and even a possible Battle Royale series), moving forward with The Hunt seems like a step in a similar direction from the unscripted side of things.
The other reality series is Perfect Score, a dating game show that not only helps singles find their match, but also could earn them some cash.
This one comes from Scott St. John of America's Got Talent and Deal or No Deal. It sounds like it could be fun, with equal parts romance and financial incentive worked into the set-up.
Your Daily Blend of Entertainment News
Thank you for signing up to CinemaBlend. You will receive a verification email shortly.
There was a problem. Please refresh the page and try again.