Carter MacIntyre Of Undercovers Joins Drop Dead Diva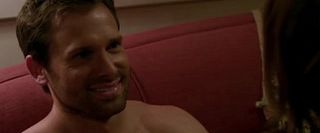 There's some big casting news for Drop Dead Diva's fourth season, and it comes in the form of one seriously dashing guardian angel. Carter MacIntyre is joining the series in a regular role when it returns to Lifetime this summer. What does it mean for the storyline? There's some speculation, but no one knows for sure yet.
What we do know is that The Hollywood Reporter had word of the casting of a new guardian angel for Jane, to be played by Carter MacIntyre. Does this mean that Fred (Ben Feldman) won't be returning to his post? Last season ended when Fred found himself heartbroken and decided to take a break from his guardian angel duties. We already know that there will be a new love interest for him this season, played by Kim Kardashian. Since MacIntyre is signed on as a regular, it seems we'll see some shifting roles.
Carter MacIntyre is familiar to anyone who caught Undercovers, which didn't last long on NBC. He's also had several guest roles on other series including Nip/Tuck,ER and Bones. According to the reports, this new guardian angel will be taking on his role with considerable relish and has an appreciation for women, food, and all of the finer things life on earth has to offer. He and Jane will likely clash, but it doesn't sound like this new angel cares much about that.
Drop Dead Diva, which was renewed for Season 4 in the fall, doesn't have a premiere date yet, but it will come back with 13 episodes in the summer.
Your Daily Blend of Entertainment News
Your Daily Blend of Entertainment News
Thank you for signing up to CinemaBlend. You will receive a verification email shortly.
There was a problem. Please refresh the page and try again.