Kim Kardashian Joins Drop Dead Diva In Multi-Episode Role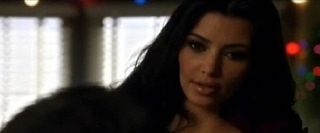 Kim Kardashian is one of the most recognizable celebrities in the country; however, her fame has largely come at the hands of photo shoots, famous relationships, and family-oriented reality programs. Which is not to say Kardashian is unwilling to try other outlets, like acting. It just means, other than a few small ventures and an upcoming role in Tyler Perry's The Marriage Counselor, the acting world has not given the famous and somewhat unpopular celebrity a real shot yet.
Things might be about to change for Kardashian thanks to a gig on Lifetime's Drop Dead Diva. Deadline is reporting the Kardashian sister with the lovely figure is set for a multiple episode role on Season 4 of Drop Dead Diva. Kardashian is set to play Nikki, a potential love interest for Ben Feldman's character, Fred. There's no word yet on whether she will be a headliner or a sideliner in her role, but creator Josh Berman says the gig is all about seeing Kardashian in a new light.
Kardashian will appear on the first episode of Season 4, set for sometime in 2012. With two roles ready to appear in the coming months, do you think Kardashian will manage to be a bit of breakout star in 2012, or do you think her performances will fall a little flat? Before you judge, check out a clip from Disaster Movie.
As always, TV Blend will keep you posted when an official premiere date for Drop Dead Diva is finally released.
Your Daily Blend of Entertainment News
Thank you for signing up to CinemaBlend. You will receive a verification email shortly.
There was a problem. Please refresh the page and try again.