Celebrity Apprentice Power Rankings: The Good And The Bad Of Aubrey O'Day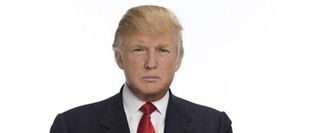 This week's Celebrity Apprentice challenge pitted Clay against Aubrey in a battle for the best male cologne project. Trump's Success brand was the target and both teams needed to come up with a display and a pitch for two lady executives covering the cologne line. With only a day to build a display and come up with a creative theme, the teams went to task immediately.
Despite Clay having a little trouble reigning in Penn's over-pitching, team Forte seemed to do extremely well, putting together a photograph with Dayana and the cologne that also incorporated Trump's tie line at Macy's. On the other team, trouble was brewing immediately, with Aubrey basically taking on the entire task and treating her teammates as if they were incompetent. Just because Arsenio has stroked a lot of egos in the day, does not mean he does not have ideas of his own. The former TV host was preparing to lose his cool throughout the episode, but luckily it never came to that.
Unanimous came ahead with the win, despite having the fugliest cologne display ever created. Through the combination of a good slogan, a prepared presentation (Clay totally managed to botch his), and the creation of cologne takeaways they just beat the other team who had a good display but a poor presentation with no takeaways and a slogan Penn created the judges felt was cocky.
Clay made mistakes, Penn made mistakes, and Dayana managed to do an alright job yet again, and eked her way through boardroom numbers six, more than any other Apprentice contestant, ever. Clay did not even bother to bring back Lisa, so the two women were safe this week. With Clay and Penn on the chopping block, it was tough to watch this season's two toughest remaining players nitpick over issues, but in the end Trump decided it was time for Penn to head on home.
Probably the biggest surprise was not Penn's firing, but instead the lack of creativity left in this season's cast. Presumably Lisa and Arsenio are going to make it into the top four, along with Clay and Aubrey, but compared to the creative competence of third and fourth place finishers Meatloaf and Lil Jon last year, that's pretty laughable. Seriously, what the hell's going to happen if Teresa makes it into the top four?
Generally in every season, there are at least one or two players who stand out above the rest, who pull multiple wins as project manager and never find themselves on the chopping block. This season, every project manager left has won money, sure, but every single one of them has lost at least one challenge as a manager. Except for Penn, who has already been fired. Read that however you will.
The Celebrity Apprentice Power Rankings are an ordered compilation of weekly lists put together by TV Blend writers Jessica Grabert and Mack Rawden. Each week after viewing the episode, they each rank the competitors in order. Seventeen points are given for a first place vote, and this week, twelve were given for a last place vote. Twelve competitors have already been eliminated; therefore, those people automatically occupy the bottom slots. Here is how this week's voting panned out, complete with analysis on how the celebrities might fare moving forward.
The Favorites
#1) Clay Aiken (34): Celebrity Apprentice was a little frustrating to watch this week as Clay had a little trouble pulling weight as project manager. Even more troubling was his presentation, which seemed as if Clay had put little to no thought into. Still, Clay's consensus management is far better than Aubrey's dictatorship and as a creative force, hard worker, and mostly clear of any freak outs, Clay is still the contestant to beat.
#2) Aubrey O'Day (32): It's too bad Aubrey and Penn were never on the same team. This week, they each brilliantly executed one portion of the task and offered up a stink bomb for the other. Luckily for Aubrey, she was able to narrowly claim the win, finally beating Clay in a heads up and putting on full display both her pros and cons. On the one hand, she was able to almost single-handedly engineer a win for her team. On the other hand, she systematically distanced herself from her team members and badmouthed them every chance she got.
#3) Lisa Lampanelli (30): Don't you love it when Lisa doesn't cause any waves? Judging by the previews from next week, this episode was but a momentary reprieve from her yelling, but it was still a nice insight into just how productive and fun the comedienne can be when she's playing nice. Despite her team losing, Clay elected to make her the only team member safe from elimination, and the honor was definitely well deserved. I'm still not convinced Lisa can make the finals, but for a woman who continually stuck her neck out to fight and argue for her own ideas, it's impressive how far she's gotten.
The Contenders
#4) Arsenio Hall (28): Arsenio is in rather a tough spot this week, simply because the votes did not go his way. Despite how the rankings look, Arsenio is likely to do well and could very well beat out Lisa to find a place in the top three. He just cannot allow his emotions about Aubrey to become his overlord and he still needs to show us he can step up with energy and a vision. That's a lot of "ifs," but we have certainly seen stranger things happen this season.
#5) Dayana Mendoza (26): If we are calling a spade a spade, Dayana should have gone home this week. What saved Dayana this week was a combination of Lisa's ridiculously kind words and one tiny idea that Dayana had and Clay stupidly vetoed. Aubrey's team had takeaways and Clay's team did not, despite Dayana bringing up the idea. Being alright in one challenge is not enough to pull through with the win and if Dayana wants to fight for her life on the show, she needs to pull some magic out of a hat, and soon.
#6) Teresa Giudice (24): Say what you will about Teresa, but she's a worker. She was painting and doing manual labor without a second thought. Unfortunately, she really didn't do a whole lot beyond manual labor. True, most of the fault should lie at Aubrey's feet for failing to utilize her, but unlike Arsenio, she didn't even really seem bothered by being relegated to the sidelines. That, in and of itself, is a pretty good indication of why she likely won't make the finals. Still, a nice run.
Here's a look at how the ballots shook out…
Swipe to scroll horizontally
Jessica:
Clay (17)
Aubrey (16)
Lisa (15)
Arsenio (14)
Dayana (13)
Teresa (12)
Mack:
Clay (17)
Aubrey (16)
Lisa (15)
Arsenio (14)
Dayana (13)
Teresa (12)

Row 0 - Cell 2
Your Daily Blend of Entertainment News
Your Daily Blend of Entertainment News
Thank you for signing up to CinemaBlend. You will receive a verification email shortly.
There was a problem. Please refresh the page and try again.