Celebrity Apprentice Reaction: Two Celebs Remain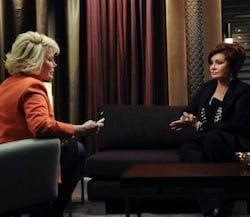 Tonight's episode of Celebrity Apprentice was the first part of the season finale. The episode saw three of the five remaining celebs cut loose, while the final two embarked on their final task. Celebrity Apprentice winner Joan Rivers and the original Apprentice winner Bill Rancic were on hand to help Trump make his decision as to which two of the final four were.
For the first firing of the night, Trump called all five remaining contestants back into the boardroom not long after they'd started celebrating following Cyndi's elimination. Sharon seemed to come close to getting the axe similarly to how Darryl went when she said she wasn't sure she wanted to win against Holly, whose daughter has autism. But it was Maria who received the first firing, after the rest of the contestants expressed that she was the weakest among them. It wasn't just her fellow contestants' disapproval of her that sunk her battleship. Maria made the seemingly fatal error of discussing in detail her reasons for being annoyed with Curtis (which had to do with him using the girls' bathroom in the suite and stinking it up).
Even before the words "below the belt" were mentioned, I was thinking Maria had gone too far. Granted, one could equate Curtis' actions as a mark of disrespect, if they really believed that was the intention of the act (and not just because the men's bathroom was occupied at the time), but was it necessary to embarrass him like that? Curtis didn't exactly express any humiliation but I can't imagine he appreciated the world hearing about his bowel movements. In the end, Trump decided Holly's remarks were disgusting and he fired her. Maybe he was going to fire her anyway. She didn't have the support of the remaining contestants and its possible he didn't see her as a contender to win. But it was the remark about Curtis that he used to shove her out the door.
Maria walked away looking and sounding embarrassed about how she was fired and even admitted post-firing that she wasn't happy to be cut loose over something she said as opposed to how she's performed in tasks. Maybe she's right. Then again, I'm thinking in the business world, actions and words often speak at the same volume. Either way, it wasn't a good way to go and I'm sure she's wishing she hadn't gotten so specific with why she had some issues with Curtis.
Following this, the contestants sat for interviews with Joan Rivers and Bill Rancic. Honestly, if I thought less of Sharon Osbourne as a person, I might state that tearing up in her interview was a bit too theatrical, but I believe she really is as emotional about the cause she's fighting for as she let on when she broke down in tears and talked about how she wants to do more to help people with colon cancer, a disease she's suffered and survived. Between tearing up in the interview and tearing up earlier when she spoke so well of Holly and the struggles she's enduring having a child with autism, there was no shortage of dramatics for Osbourne, but all of it seemed to come from genuine compassion as opposed to a simple desire to win. Either that, or I'm a total sucker because after tonight's episode, all I wanted was to give the woman a hug.
The rest of the interviews were pretty standard, as the contestants talked about their charities and their drive to be leaders. Say what you want about Bret Michaels, what with his rock star background and collection of metaphors (rolling with the punches, fielding the ball, getting bees with honey as opposed to vinegar, etc), he went into his interview prepared to stand behind his actions and confidently selling himself as a necessary contender for the final round.
It was interesting to me that Joan Rivers seemed more inclined to support Holly for living with autism (or her child's autism) and not as much with Bret Michaels, who actually has diabetes and has been living with it for most of his life. Putting their charities and their personal lives aside, Holly's actual interview seemed less confident and more on the defensive side, which I thought might hurt her but Joan's words about Holly's ferociousness as a mother bear protecting her cub seemed to leave their mark on Trump's thoughts when he made his final selections for the final two.
It seemed obvious that things weren't looking good for Curtis when Trump revealed to him that Joan said he lacked passion and Bill said he was a one trick pony. Trump took their words to heart and sure enough, he fired Curtis.
Trump moved on, starting out by asking Holly who she'd fire if she were him. Holly said Bret because Sharon showed a lot of passion in the last few weeks. Bret said he'd fire Holly, though he really didn't get to explain why because Sharon started crying again. At this point, despite my adoration of her, I thought the tears were a bit too distracting to be helpful for anyone, including Osbourne. Then again, we all know Trump's mind was probably made up by that point anyway. Maybe Sharon knew that too and knew things weren't looking good for her, hence the tears. In the end, Trump fired Sharon, leaving Bret and Holly as the final two of this season's Celebrity Apprentice.
Sharon cracked me up when she swore at herself for all of the crying. She played a good game and carried herself well throughout the competition. Following Sharon's departure, Bret and Holly headed back to the suite to celebrate and await instructions on the next task.
Now, on to the game! The interviews and firings were over and Holly and Bret were put to the task of doing a product launch for Snapple, which would earn one of their charities $250k. Darryl and Summer were brought in to help Bret. Meanwhile, Holly had the help of Curtis and Maria. Maria expressed that she wanted to be supportive of Holly on this mission, but it didn't seemed like Holly was all that appreciative of Maria's input at first. Have to give Maria credit for putting her recent firing behind her and stepping up to the task, despite her differences with Holly.
Going into the task of coming up with a new flavor for Snapple, Bret wanted to incorporate cinnamon in his beverage as cinnamon's been said to help people with diabetes control their blood sugar. Holly had Curtis' palate on her side as well as his knowledge of fruits, which helped them eliminate flavors, since they were going for a summer drink.
The teams had to negotiate for flavors as they weren't allowed to duplicate each others' drinks. The negotiations were a disaster for Bret. Holly sent Curtis up to sit with him so they could discuss which team got what flavors. Bret went into it knowing he needed the passion fruit. That was his A-game. Curtis bluffed his own choices and from the way it played out, seemed to make Bret think he was saving himself something by giving up the passion fruit in exchange for all of the other flavors on his list (none of which Curtis wanted). I have to say, I was a little surprised that Holly didn't do the negotiations herself and if Curtis hadn't been so successful, that might've really hurt her but it panned out well for her in the end and Bret ended up looking like the sucker (which is exactly what Curtis called him when he left the room.)
On to the taste tests, people seemed to universally hate Bret's Pear Plum Nutty, but liked his Trop-A-Rocka. The footage we saw of Holly's taste test showed a few positive reactions to their drinks and then Curtis and Maria trying the Pear Plum Nutty and stating that it was nasty. Maria took it to a more personal level by comparing Bret's taste in drinks to his taste in women and saying the Pear Plum Nutty was like all of the Rock of Love girls combined.
Next up were the commercials. Bret couldn't decide on how to do an ad that was funny but also captured the seriousness of his cause, so he set out to make two commercials. While Holly wasn't able to fire the actors she didn't want (she made Curtis do it), Bret got distracted flirting with the girls he hired for his ad and wasn't around as much as he needed to be to approve information that was going into the ad.
By the end of the episode, things seemed to be going really well for Holly and her team on their Autism-themed commercial, while Bret was nearing melt-down mode as he struggled with equipment errors. The way its looking, things seem to be going in Holly's favor for this final competition but we'll have to wait and see the finished products for both teams and how the people at Snapple respond to their work.
Tune in next Sunday for the Celebrity Apprentice season finale!
Your Daily Blend of Entertainment News
Assistant Managing Editor
Kelly joined CinemaBlend as a freelance TV news writer in 2006 and went on to serve as the site's TV Editor before moving over to other roles on the site. At present, she's an Assistant Managing Editor who spends much of her time brainstorming and editing feature content on the site.