Charlie Sheen Back On Two And A Half Men? Here's What Ashton Kutcher Says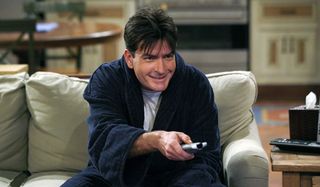 Two and a Half Men is currently airing its final season, and recently Ashton Kutcher popped up on The Ellen Show to talk about the big Two and a Half Men finale. You can check out what he had to say when Ellen DeGeneres asked him if former Two and a Half Men actor Charlie Sheen might be appearing onscreen during the finale, below.
According to Kutcher, the CBS comedy has not yet shot the series finale. However, he has been debriefed on what the finale story will be and he seems as gleeful as a kid in a candy story when mentioning it. At one point, Ellen point-blank asks Kutcher whether Sheen will actually pop up in the finale and while he doesn't literally state "yes," he does make it seem as if a Sheen appearance is a strong possibility.
Why is this a big deal? First, Sheen's character was actually killed off the show at the beginning of Season 9, following a period where production on the comedy had to actually be shut down due to his addiction problems. He was eventually fired from Two and a Half Men after taking shots at Chuck Lorre, who created the comedy. It probably didn't help that his public behavior during this period was far from excusable. He later started one-sided Twitter wars with Ashton Kutcher and even called Two and a Half Men a "steaming pile of ass."
Because of all of the antics leading to his firing and dying on the show, there are two problems with Sheen returning. First, he would need to make amends with the show, its cast members and everyone on the creative team. That could be a tall order, but Charlie Sheen himself has said he is not opposed and has, in fact, already reached out to speak about a potential return during the final season. He even said "they" were working on an idea that would allow his return to be possible, but other reports have indicated Lorre is less-than-keen about the possibility.
Even if Sheen gets the go-ahead to return to the show the second obstacle, then, would be figuring out how to incorporate Sheen into the plot. Getting killed off is a huge obstacle, and a return to the show would need to revolve around something gimmicky, like a faked death or maybe a flashback, in order to make sense.
Presumably, the decision will need to be made soon, if it hasn't been made already. At the very least, Kutcher's caginess seems to indicate that Charlie Sheen could come back for the Season 12 finale, which is expected to air on February 19. Kutcher did have one other pretty bizarre thing to say about the finale.
I have no idea what he's referring to. He makes the statement in reference to the Sheen mention, which means he could be worried that the former Two and a Half Men star could lash out on set. Then again, he could just as easily be mentioning something else that will occur in the finale and happened to bring it up as a non sequitur. Whatever it means, it sounds like the finale is going to be interesting, indeed.
Your Daily Blend of Entertainment News
Reality TV fan with a pinch of Disney fairy dust thrown in. Theme park junkie. If you've created a rom-com I've probably watched it.