Check Out Stephen Amell Looking Bearded And Badass As Future Green Arrow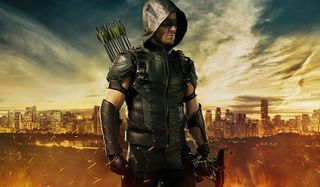 The Legends of Tomorrow crew will be heading to the year 2046 next week, and while there, they'll run into a familiar face. It was announced last month that Stephen Amell will hop over from Arrow to the time-traveling show as an older Oliver Queen. We already knew this Oliver's physical appearance would resemble the version from The Dark Knight Returns, but now we have our first look at the elder and bearded Oliver still taking on the bad guys as Green Arrow.
Amell posted this photo on Twitter with the caption "Get up old man." Since Oliver was born in 1985, this makes him 61 years old when the Legends of Tomorrow characters reunite with him in "Star City 2046." When Amell's inclusion was announced, it was said he would rock a goatee and be missing an arm. While the goatee is on full display (and looks good, I might add), we see he has two arms. So either he's wearing some kind of high-tech prothesis or he's going to get the arm sliced off during the episode. Present-day Oliver previously appeared in the Legends of Tomorrow series premiere working with Ray Palmer, a.k.a. The Atom, to take down a H.I.V.E. faction and council Ray about joining the team.
The Legends team will come to 2046 to find a world where Vandal Savage has caused untold amounts of destruction only 30 years after they left. Just like in The Dark Knight Returns, Oliver has continued to battle crime with his archery, but he's definitely seen better days. This episode will also feature Connor Hawke, who was the second Green Arrow in the comics. However, in this universe, Connor will not be Oliver's son, instead taking a more Batman Beyond-like approach with passing the torch. However, there's a third player from DC Comics who may also come into play.
The second photo has Oliver facing a masked assailant, and while that individual isn't identified, Amell did write next to the picture, "Old feuds die hard." Looking at the character's armor and the swords on their back, my best guess is that this is a relative of Slade Wilson, a.k.a. Deathstroke.
Although Slade hasn't been seen since the Season 3 episode "The Return" (and isn't set to come back anytime soon) his feud with Oliver is unlikely to have vanished, leaving another to continue the fight. Slade mentioned having a son named Joe, which likely means that his opponent is the DC TV version of Jericho. Amell mentioned a few months back that "another Wilson" would eventually appear, but with everything going on with Damien Darhk and H.I.V.E. on Arrow, including Joe makes more sense on Legends of Tomorrow since he'll be a man by then. Plus, it waspreviously said there would be a villain who will "pick up his father's legacy."
Legends of Tomorrow airs Thursdays at 8 p.m. EST on The CW.
Connoisseur of Marvel, DC, Star Wars, John Wick, MonsterVerse and Doctor Who lore. He's aware he looks like Harry Potter and Clark Kent.
Your Daily Blend of Entertainment News
Thank you for signing up to CinemaBlend. You will receive a verification email shortly.
There was a problem. Please refresh the page and try again.