Chris Farley Movie Coming To Spike TV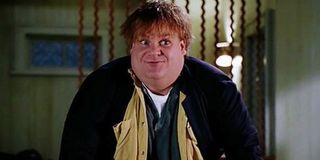 Gone too soon, Chris Farley left a lasting impression on the comedy world and popular culture in general. There's a new documentary about the comedian and Saturday Night Live star, I Am Chris Farley, on the way, and it is scheduled to debut on cable channel Spike TV later this summer after a limited theatrical run.
According to a press release, I Am Chris Farley aims to be the "definitive biographical film" about the actor, who passed away from a drug overdose in 1997 at the young age of 33. It will feature appearances, stories, and recollections from Farley's many friends and costars. The list includes SNL cohorts like Adam Sandler, Mike Myers, Molly Shannon, and, of course, David Spade, as well as others, like Christina Applegate, Dan Aykroyd, Bod Odenkirk, Lorne Michaels, and tons more.
This comes from two directors with a history of documentary filmmaking. Derik Murray has a number of I Am movies under his belt, directing I Am Evel Knievel and producing the likes of I Am Bruce Lee and I Am Steve McQueen. His partner in crime, Brent Hodge, helmed the festival favorite doc A Brony Tale, exploring the growing subculture of adults who are obsessed with My Little Pony: Friendship Is Magic.
Their latest venture follows Farley's life from his childhood in Madison, Wisconsin—he also attended college in his home state, at Marquette University. The film will chronicle his early days in show business, toiling away as a member of Chicago's legendary Second City comedy troupe, through his rapid rise to fame on SNL, his starring turns in movies like Tommy Boy and Black Sheep, and his myriad personal problems, that included heavy drug use.
Murray says:
Farley's family gave their full cooperation for the film, which will run through his career, including his most memorable characters and roles—like Matt Foley, who you may recall lives in a van down by the river, and his Chippendales audition next to Patrick Swayze—as well as his personal life, where he lived at full volume, committed to making people laugh, and touching countless people along the way.
I Am Chris Farley will get a very limited theatrical run later on this summer, touching down in a few key (read big) markets nationwide thanks to Virgil Films. After that, it is slated to appear on Spike TV on Monday, August 10 at 10:00pm, which is where most of us will likely get to watch it, followed by a stint on Video-On-Demand.
Your Daily Blend of Entertainment News
Thank you for signing up to CinemaBlend. You will receive a verification email shortly.
There was a problem. Please refresh the page and try again.