When Clara Is Officially Leaving Doctor Who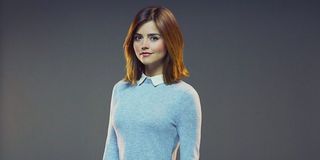 Warning: there are spoilers ahead for the remainder of Doctor Who Season 9!
The Doctor and Clara Oswald's time together is almost finished. It was announced in September that Jenna Coleman would be departing Doctor Who after a three-year tenure on the show in order to play Queen Victoria in the upcoming ITV series Victoria. It was never specified when Clara will make her last appearance, but now it's been confirmed, and it's a lot sooner than many fans likely expected: this weekend.
Peter Capaldi confirmed that Saturday's episode "Face the Raven" will be Clara's last episode, and while speaking with Metro, he stated her departure won't be a happy affair: In his words:
It's worth noting that Clara had previously been said to appear in the Season 9 finale "Hell Bent." However, it's possible that these were either intentional misdirects or Coleman will be appearing as Clara who is a hallucination/vision rather than the real deal. Season 9 has been ripe with foreshadowing that something bad will happen to her, but it has yet to be determined whether she'll die, be permanently inaccessible to The Doctor (just like what happened with Amy and Rory Williams in "The Angels Take Manhattan"), or some other horrible event.
Coleman made her Doctor Who debut in the Season 7 premiere "Asylum of the Daleks," but it wasn't until the end of the 2012 Christmas special "The Snowmen" that she was first seen as the main version of Clara Oswald. The latter half of Season 7 loomed with the mystery of why there were multiple versions of her spread across The Doctor's history, and once that was solved, there were more opportunities to explore her as an individual. Originally paired with Matt Smith's Eleventh Doctor, she continued to travel as a companion across time and space with Capaldi's Twelfth Doctor when she wasn't teaching at Coal Hill School.
"Face the Raven" features the return Rigsy (played by Jovian Wade), the graffiti artist who helped Clara out in the Season 8 episode "Flatline," and Ashildr (played by Maisie Williams), the immortal who The Doctor helped/adventured with in "The Girl Who Died" and "The Woman Who Lived." The episode will see The Doctor, Clara and Rigsy discovering a "magical alien world, hidden on a street in the heart of London." The preview for the episode certainly looked ominous for Clara, but to be fair, every Doctor Who preview makes it look like The Doctor and his companion will meet their doom.
U.S. viewers can catch new episodes of Doctor Who Saturdays at 9 p.m. EST on BBC America.
Connoisseur of Marvel, DC, Star Wars, John Wick, MonsterVerse and Doctor Who lore. He's aware he looks like Harry Potter and Clark Kent.
Your Daily Blend of Entertainment News
Thank you for signing up to CinemaBlend. You will receive a verification email shortly.
There was a problem. Please refresh the page and try again.