The Clicker Looks At Big Brother Strategies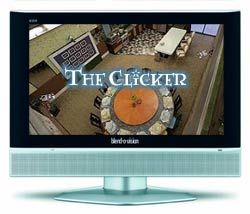 'Big Brother 8' premiered last week and we were introduced to 14 new houseguests. As we got the abridged version of the houseguests initial meet and greet, it was evident from the start that quite a few of these people have already begun to figure out how they're going to play this game. There are probably at least a couple of houseguests who think they can play the game by just being themselves and making friends. That might get them through the first couple of weeks but sooner or later, they'll need to start strategizing.
After the Thursday premiere, I started thinking about some of the strategies used by the houseguests in previous seasons. After seven full seasons of the American version of 'Big Brother,' certain strategies have become fairly standard for the game. From the super-aggressive players to the more passive houseguests who squeak under the radar week after week, there is definitely more than one way to advance in the 'Big Brother' house.
Here are some of the frequently used strategies used in the American version of 'Big Brother.'
Lying
This one is probably the most standard within the game. Whether it's lying about your life outside the house in order to fool the other houseguests into underestimating you or lying about where your loyalties lie, lying is almost always necessary at some point in the household. Some houseguests can manage to get by week after week without ever lying but sooner or later, they're forced to decide whether keeping their word is worth losing half a million dollars.
This season it appears Kail and Daniele were the first two people to lie about their background. Daniele lied about her age as not to appear to be the youngest person in the house. Kail lied about her professional background. She's a multi-business owner though she told the other houseguests she's just a real estate agent.
The risks of lying are obvious. When lying about where your loyalties lie, sooner or later you'll be exposed, either by your own actions or due to someone else picking up on it. Lying about your personal background is usually a safer option but when you're spending 24/7 locked in a house with people, there's always the chance that some personal story or reference to your life outside the house wont line up with the other lies you've told. Even if people can't prove you're lying about certain aspects of your life, if they start to suspect you, they wont trust you as easily as they might have otherwise.
Manipulation
This is a strategy that takes a lot of skill. For some people, manipulation is part of their nature. They know how to talk to people in a way that is subtly persuasive. It makes the houseguest think that the plan is something that benefits themselves when really, they're doing the dirty work of the manipulator. Will, the winner of season 2 and honorary winner (in my book) of the All Stars season was the king of manipulation in the 'Big Brother' house. In both seasons he was in, people knew they couldn't trust him yet he managed to avoid elimination entirely in season 2 and almost entirely in "All Stars" without winning competitions. He used his charm and people-skills to set people against each other and convince people that keeping him (and the people he needed in the game) around was in their best interest.
The Secret Alliance
A truly secret alliance with one or more houseguest almost never lasts that long. Two or more houseguests might come together and decide that they're going to ally behind everyone else's backs but unless they make a point not to spend too much time together when others are around (as they almost always are), eventually one or more of the other houseguests are going to notice. Whispered conversations in the storage or exercise room are usually the way to go but they should be brief and infrequent. In the end, paranoia is usually what causes secret alliances to come out into the open or fall apart entirely.
Floating
Floating is when a houseguest has more than one alliance, generally unbeknownst to other alliances.
Aggressive Floating - Aggressive floating is when the houseguest intentionally commits to more than one alliance and often gives up information about the other alliances when it serves their purposes. In season 6 of 'Big Brother,' James was an aggressive floater. He lined up with the Sovereign Six and also developed an on-the-side alliance with Ivette. The strategy failed though. Ivette never put James before "The Friendship" alliance and the Sovereign Six inevitably caught on to what James was doing. They had his secret partner (and girlfriend) Sarah nominated and inevitably evicted. After that, the Sovs were weakened but I think had they not gotten rid of Sarah, James would've done a lot more damage to their alliance later on.
Passive Floating - A passive floater is non-committal and fairly wishy-washy about where their loyalties lie. They avoid winning competitions if possible because it's much easier to let other people do the dirty work while they ride the coattails. In last summer's "All Stars" season, Erika was a passive floater. There were times when it seemed very obvious that she was throwing competitions (I'm pretty sure she gave the spider web endurance competition to Danielle) and she stayed on good terms with pretty much everyone in the house. This strategy (along with another one that I'll mention in a minute) got her to the final two.
Passive floaters can appear to be somewhat of a wildcard to the other players. If the floater knows how to act as though their vote could be swung, other alliances might keep them around. On the other hand, a floater's inability to secure themselves to one alliance or another can put them in a very vulnerable position.
The Hook-Up Strategy
Some heavy flirting and a little under the covers naughtiness can go a long way. As there are always a number of attractive single people in the 'Big Brother' house, hook-up alliances, or "showmances" as Chilltown preferred to call them have often played a part in some houseguests' strategies. Last season, Erika got into Chilltown (sort of) by hooking up with Mike "Boogie." Getting into bed with Chilltown helped keep her off their immediate elimination list. In the end though, it ended up costing her her dignity. During the finale, they aired all of the diary room footage of Boogie talking about how he was using Erika. I'm not sure if that kind of humiliation would've been worth $50,000.
Winning Competitions
This one is an obvious but a fairly difficult strategy nonetheless. There are some people who excel at memory games and physical challenges. Others are simply not observant or coordinated enough to best the rest of the house at some of the ridiculous (but challenging) competitions that 'Big Brother' sets up for them. Winning a lot of competitions can help get a houseguest through week after week but eventually they will be perceived as a threat by the rest of the house and the target on their back will be much bigger. Then again, if you're good at competitions, you could just keep winning them and advancing without having to worry about strategizing all that much. This plan worked well for Janelle during "All Stars." There was a target on her back from the moment she stepped in the door. Her Veto and Head of Household wins definitely played a part in her making it to the final three.
Losing Competitions
Losing competitions is usually part of the floater strategy but can pretty much be used by anyone looking to go unnoticed by the rest of the house. Some people have no choice but to lose competitions. Others go out of their way to throw competitions to avoid being in a position of power. Winning Head of Household means having to nominate two people for eviction. For a person with multiple alliances, figuring out which two people to nominate without tipping off the house as to where their loyalties lie can be pretty tricky if not impossible. The same goes for winning the Veto (unless they're on the block).
Backdoor Elimination
In the BB house, understanding the rules and learning to use them to your own benefit can be crucial to advancing in the game. To back-door a houseguest, the Head of Household would put that person up for elimination at the Veto ceremony. Because the Veto competition has already been played, that person has no other chances to get off the block (aside from campaigning and trying to appeal to the voting houseguests)
Nakomis' "Six Finger Plan" from Season Five used to be the method of choice for getting rid of an unwanted houseguest. It only worked when there were six people in the house willing to go along with it and few enough people in the house to ensure the majority would vote out the unwanted houseguest.
The Six Finger Plan only worked before Big Brother made the houseguests draw balls to determine who could play for Power of Veto. If the Head of Household wanted to get rid of someone, they could intentionally not nominate the person they wanted to be eliminated and instead, put up two people who are in on the plan. Then, when it came time to play for Veto, the two nominees and the HoH would each pick a trusted houseguest to play for Veto as well. Whoever won the Veto would use it and the HoH would put the unwanted houseguest up for elimination in their place. The majority would vote to evict that person and out they went.
Now that the Veto players are chosen at random, back-dooring a houseguest is riskier. The Head of Household could nominate two semi-expendable houseguests for elimination and then hope that the person they really want out doesn't get to play for Veto or if they do, that they don't win it. They also have to hope that whoever wins the Veto uses it. There's generally too much risk to ensure that this plan would work though. Considering the amount of double-crossing that goes on in the house, it's usually better to just nominate two people you think should go.
The above said, people still get back-doored but a lot of the time it's the result of a post-Veto decision rather than a planned out strategy. After the eviction is over, if the head of household knows the Veto winner is going to use it to save themselves or someone else from elimination, they can look at the rest of the house and decide to use the opportunity to get rid of another houseguest.
Those are some of the most commonly used strategies in 'Big Brother' based on my experience as a regular viewer of the series. Most of the strategies are mixed and modified by the houseguests to suit their own personal needs.
A good 'Big Brother' player knows when to keep their guard up and when to put it down. The whole "trust no one" thing will take a person a long way but sooner or later they're going to have to trust people a little bit. Being paranoid has been the undoing of more than one player in the house.
This poll is no longer available.
What to Watch (7/8 to 7/14)
Big Brother (CBS) 8:00 pm
(New!) Find out what happened in the Big Brother house after last week's season premiere!
Entourage (HBO) 10:00 pm
Sorry, Harvy - (New!) Once again, Eric is faced with the task of reneging on a deal with Harvey. This wont be pretty.
Flight Of The Conchords (HBO) 10:30 pm
Yoko - (New!) Murray and Jemaine are convinced that Bret's girlfriend is trying to break up the band.
'Hell's Kitchen' (Fox) 9:00 pm
(New!) – Last week Melissa got moved over to the men's team. Will Rock be able to tolerate her constant yapping and crazy hair?
'Greek' (ABC Family) 9:00 pm
Pilot Episode (New!) – Check out the first episode of this new dramedy about a bunch of college kids learning to juggle the semi-adult world of college as well as the campus greek system.
'America's Got Talent' (NBC) 8:00 pm
Las Vegas Callbacks Part 1of 2 - (new!) – The acts that got through the first round head to Vegas to audition again.
'Big Brother 8' (CBS) 9:00 pm
(new!) – Let the games begin! Head of Households, Vetoes, secret storage room meetings? Will the newest crop of BB houseguests have what it takes to make it in this game?
'Bad Girls Road Trip' (Oh!) 10:00 pm
Holy Crap! - (New!) –The girls head on over to the city of brotherly love.
So You Think You Can Dance(FOX) 8:00 pm
(New!) – The final 14 dances perform. The director of Hairspray, Adam Shankman will be the guest judge.
Don't Forget The Lyrics!(FOX) 9:30 pm
(Series Debut!) – In this new gameshow, contestants will have to remember the words to popular songs to win boatloads of money.
'Big Brother 8' (CBS) 8:00 pm
Live Episode (new!) – Who will be the first houseguest eliminated from the 'Big Brother' house?
'So You Think You Can Dance' (FOX) 9:00 pm
Results (new!) – Hillary Duff performs and two dancers are eliminated.
Drive(FOX) 8:00 pm
The Extra Mile (New!) – Ok, this time for real. FOX was originally set to air these last two episodes on July 4th but they moved them to this Friday.
Drive(FOX) 9:00 pm
Rearview (New!) – The series finale of the shortlived show. Set your DVR since its airing on the 4th of July and chances are, you'll have better things to do.
The Negotiator (Spike TV) 7:00 pm
Any movie that includes a yelling Samuel L. Jackson and strangely calm Kevin Spacey is good. In The Negotirator, Jackson's character is accused of murdering his police partner.
__________________________________________
Do you an idea for a column or just something to say? Scroll down and leave a comment!
Kelly joined CinemaBlend as a freelance TV news writer in 2006 and went on to serve as the site's TV Editor before moving over to other roles on the site. At present, she's an Assistant Managing Editor who spends much of her time brainstorming and editing feature content on the site.
Your Daily Blend of Entertainment News
Thank you for signing up to CinemaBlend. You will receive a verification email shortly.
There was a problem. Please refresh the page and try again.