Comedy Bang! Bang! Will Return To IFC For Longer Second Season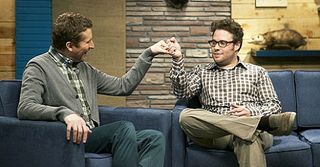 IFC has handed down a second season order to their new original comedy series Comedy Bang! Bang!, doubling the episode order from the first season. The Scott Aukerman created and hosted series spoofs the late-night talk show format and has seen guest appearances from some of the biggest names in comedy as well as from the acting world.
Scott Aukerman came to the show off his writing gig on the podcast Between Two Ferns with Zach Galifianakis; Galifianakis has also appeared on the IFC series. Aukerman both writes and hosts Comedy Bang! Bang!. Each episode features special guests and follows something of a sketch and variety format. Reggie Watts of Conan fills the musical requirement of the late-night genre. Among the guests who appeared in the first season are Paul Rudd, Amy Poehler, John Hamm and Seth Rogan.
The second season will be 20 episodes but will air in 10-episode blocks, according to Deadline. The plan is to air the first set of 10 in the third quarter of 2013, followed by the second 10 in the fourth quarter, which almost gives it the feel of two separate seasons airing close together. They've already begun production on the new episodes in Los Angeles. Likely we will see another group of great guest stars for the new season.
Comedy Bang! Bang! wrapped season one back in August of 2012, so it's been quite a wait for new of a second season. Perhaps IFC is hoping to make up for the long wait with the longer new season.